OSCODA HIGH SCHOOL WINS GOLDEN TICKET
WITH MUSICAL THEATER CLASS' PRODUCTION OF
ROALD DAHL'S WILLY WONKA JR.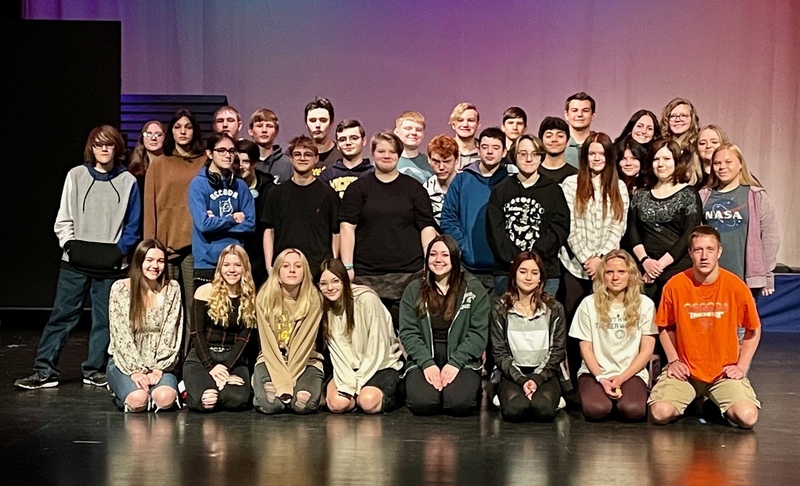 Students to Present Magical Musical
Based on the Award-Winning Book
Charlie and the Chocolate Factory by Roald Dahl on
Tuesday, May 17 at 7:00 p.m.
Oscoda, MI – The OHS Musical Theater Class students will transport Oscoda to a "world of pure imagination" with their production of Roald Dahl's Willy Wonka JR., a musical based on Roald Dahl's timeless children's book Charlie and the Chocolate Factory, on Tuesday, May 17 at 7:00 p.m., it was announced today by Drew Cohen, President of Music Theatre International (MTI).
In Roald Dahl's Willy Wonka JR., a world-famous reclusive candy man named Willy Wonka announces that he will offer the tour of the lifetime through his secret chocolate factory to five children who find a golden ticket in one of his world-famous candy bars. Against all odds, an impoverished but sweet-natured boy named Charlie Bucket wins a golden ticket. He and his fellow tour members — the spoiled-rotten Veruca Salt, gluttonous Augustus Gloop, gum-chewing Violet Beauregarde and television junkie Mike Teavee — spend a day traveling with the mysterious and marvelous Willy Wonka and his crew of Oompa Loompas through the fantastical factory. The children encounter marvelous sights and tastes along the way, including giant nut-selecting squirrels, fizzy lifting drinks, Everlasting Gobstoppers, and a chocolate river. But each stop proves to be a test, as only one can go on to win the Wonka prize.
"It takes tremendous imagination to communicate the whimsy and wonder of Willy Wonka's factory, and it requires great sensitivity to deliver the musical's key message on the importance of good character," says Cohen. "We want to applaud the Willy Wonka JR. cast and crew and hope Oscoda High School's audience will outnumber all the Oompa Loompas in Willy Wonka's factory," he adds.
Roald Dahl's Willy Wonka JR. is adapted for the stage by Leslie Bricusse and Timothy Allen McDonald. The show features lyrics and music by Leslie Bricusse and Anthony Newley, including beloved songs "The Candy Man," "I Want It Now!", and "Pure Imagination" from the classic film Willy Wonka and the Chocolate Factory.
"I'll always be thankful to my third grade teacher, Mrs. Spencer, who introduced me to the joys of reading by giving me a Roald Dahl book," says McDonald. "These students are playing a similar role by showing their peers how wonderful reading and theatre can be through their production. Bravo!" he adds. Oscoda will have its own tour of Willy Wonka's secret factory when the OHS Musical Theater Class presents Roald Dahl's Willy Wonka JR. on Tuesday, May 17 at Oscoda Area High School (3550 River Road). Golden tickets are $6.00 and will be available at the door.
Roald Dahl's Willy Wonka JR. is presented through special arrangement with and all authorized materials are supplied by Music Theatre International 421 West 54th Street, New York, NY, (212) 541-4684, mtishows.com.
Music Theatre International (MTI) is one of the world's leading theatrical licensing agencies, granting theatres from around the world the rights to perform the greatest selection of musicals from Broadway and beyond. Founded in 1952 by composer Frank Loesser and orchestrator Don Walker, MTI is a driving force in advancing musical theatre as a vibrant and engaging art form.
MTI works directly with the composers, lyricists and book writers of these musicals to provide official scripts, musical materials and dynamic theatrical resources to over 70,000 professional, community and school theatres in the U.S. and in over 60 countries worldwide.
MTI is particularly dedicated to educational theatre and has created special collections to meet the needs of various types of performers and audiences. MTI's Broadway Junior™ shows are 30- and 60-minute musicals for performance by elementary and middle school–aged performers, while MTI's School Editions are musicals annotated for performance by high school students.