Attention 7th-12th grade families: Picture Day is coming. 7th-12th graders will have their school pictures taken throughout the day on Tuesday, September 14th. Lifetouch will be our photographer. Check out the images for ordering information. Have a great Friday and Go Owls!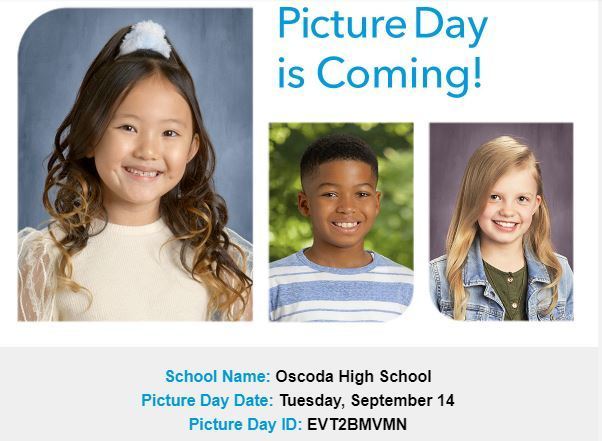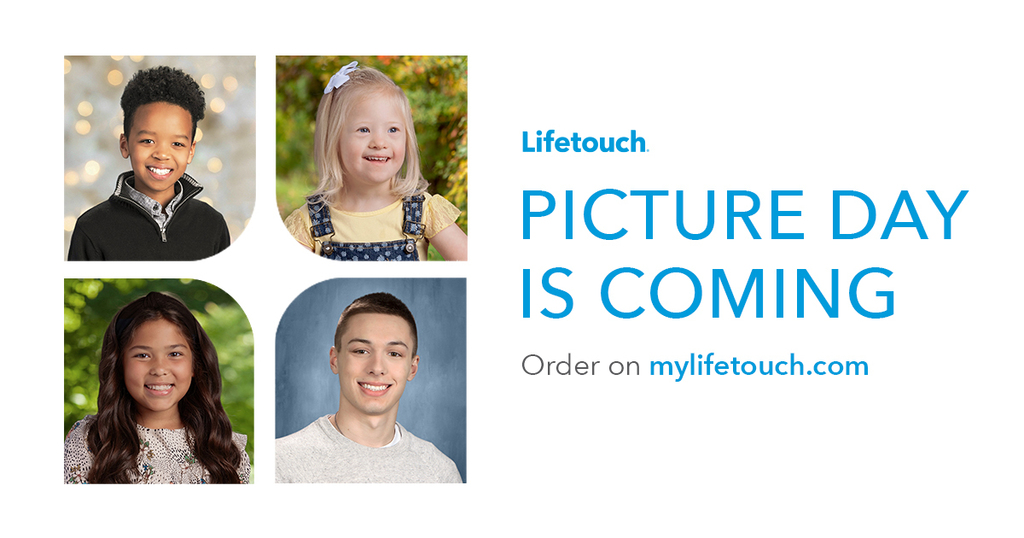 Orders for the 2021-2022 High School Yearbook can be made online at ybpay.com! Check out the following images for all the details!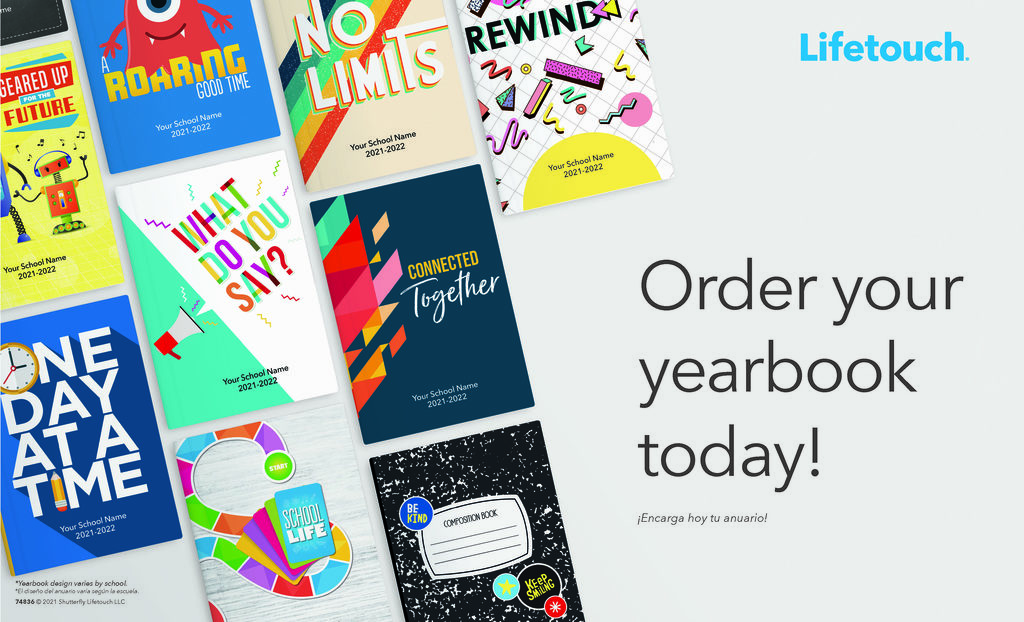 OHS Open House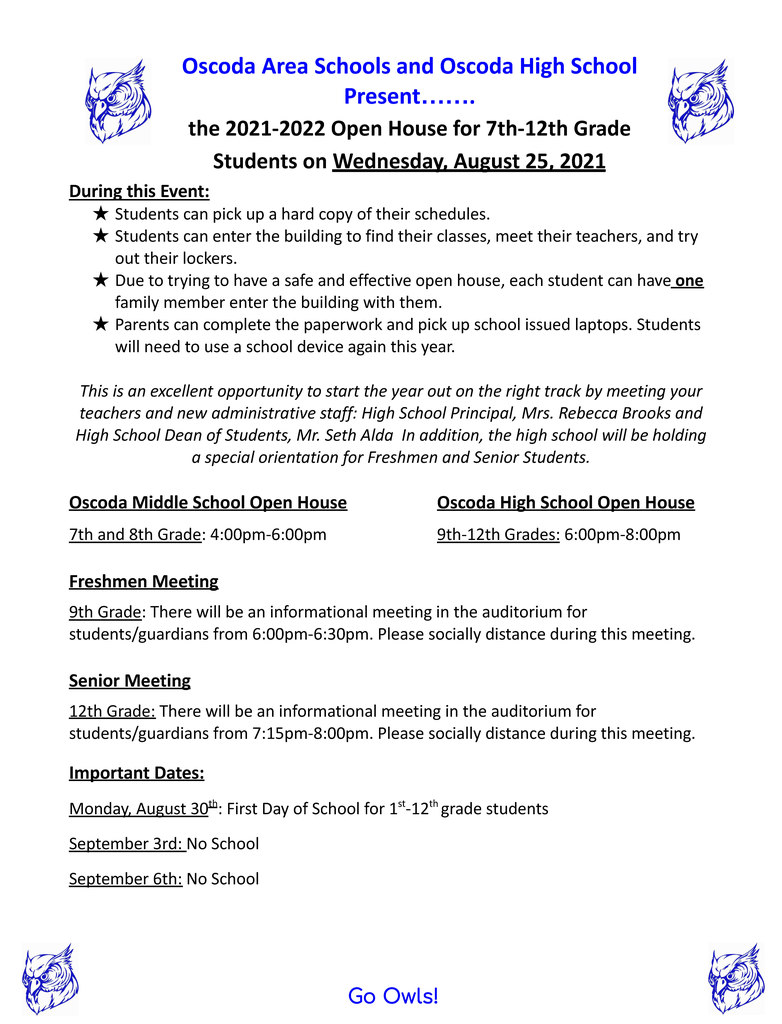 Attention Oscoda athletes, a sports physical will be required for the 2021-2022 school year. You can call the Owl Health Extension office at (989) 569-6002 to schedule a sports physical or through your health provider. Paperwork for the physicals can be picked up at the High School office. The weight room will be open starting Wednesday, June 23rd at 7 am. The weight room will be open Monday-Thursdays at that time. We encourage all athletes grades 7-12 to attend these sessions with Coach Whitley to improve your athleticism.
Congratulations to the baseball team on their 5-0 regional win last night over Beaverton! The boys continue playing on Saturday in East Jordan taking on Traverse City St. Francis. The game starts at 10 am. Come support the team by purchasing tickets at Go Fan.
https://gofan.co/app/events/319561
GO OWLS!
Congratulations to the varsity boys baseball team on being district champs! The games continue with a semi-finals showdown at Meridian High School in Sanford, Michigan. Oscoda takes on Beaverton at 5 pm on Wednesday, June 9th. Come support the team by purchasing tickets through Go Fan at this website.
https://gofan.co/app/school/MI3433
Go OWLS!
Good afternoon, Spectators wishing to attend Friday's 12 pm and 1 pm District games for baseball and softball will need to purchase tickets through Go Fan. Friends, family, and fans can find tickets at this website.
https://gofan.co/app/school/MI3433
GO OWLS!

Many parents and students are experiencing frustration and stress throughout the process of applying for colleges and figuring out how to pay for it. Alpena Alcona Area Credit Union will be facilitating an Edmit workshop on May 25th @ 6:30 ET via Zoom. This is FREE and available for all in our community. This workshop will provide an opportunity to ask questions and receive valuable advice on college selection, applying, financial aid, and more. All are welcome to register and learn more about this great program free to our community, sponsored by AAACU. Workshop Registration Link
https://zoom.usmeetingregistertJYqdOqqpzsrHNDqOVce4wYgY5BunOUAntvo
Virtual Workshop : How to Find Your Best Financial Fit™ Colleges May 25th @ 6:30pm Please join us for a college finance workshop in partnership with Edmit, a digital college financial advising platform where you can check different colleges' affordability including institutional scholarships and grants, evaluate post-graduation salaries, access expert advice on avoiding too much debt, and more (including FAFSA and CSS Profile support). This interactive workshop will include guidance on how to estimate how much your family can afford to pay for college and how to calculate the "net price" for college. The Edmit team will also share how financial aid works at different types of colleges and how to identify and evaluate colleges that will be the best financial fit™ for your family.
Good luck to the Oscoda Baseball and Softball teams as they take on Posen today at 4 pm. The Softball game will be livestreamed at
http://schoolcast.co/oscoda
GO OWLS!

The Oscoda Area Schools National Honor Society is hosting a blood drive at Oscoda High School Monday, May 3, 2021 from 8:00AM - 1:45PM. Community donors will be asked to enter the building through the doors by the Gymnasium. Full details can be found on the attached flier.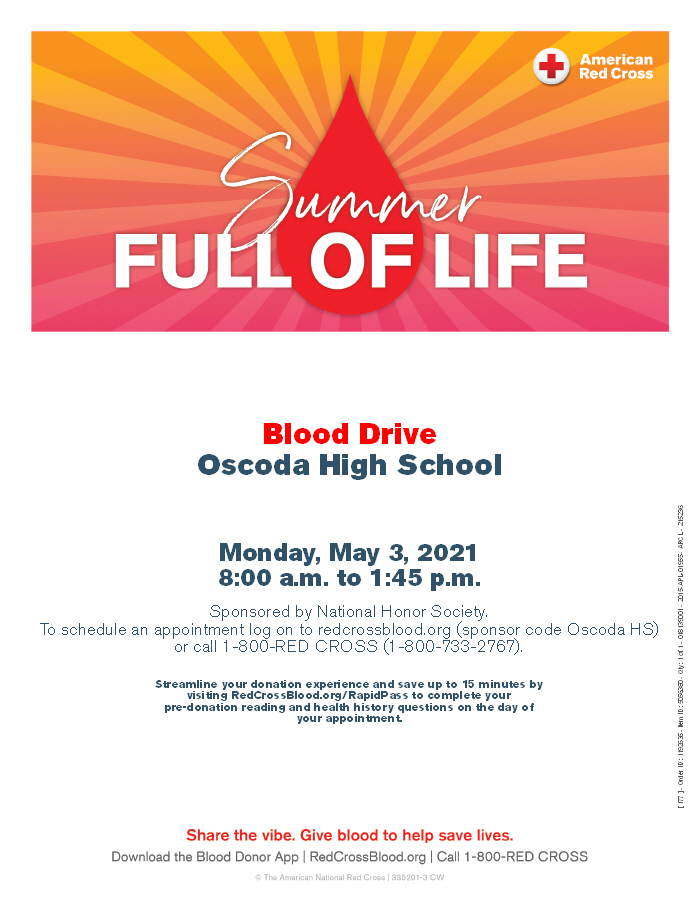 Attention Owls interested in playing softball, practice is running this week from 3:30 - 6 pm. We are thrilled to have a JV program this year but need students to participate in order to keep the program. Go OWLS!
Good morning! Just a reminder for middle school students interested in Track. Practice is Tuesday, Wednesday, and Thursday from 3:30-5 pm. Go OWLS!
We would like to congratulate the following athletes for being recognized by the North Star League in Girls and Boys Basketball. First Team All-Conference. Macy Kellstrom, Izzy Hulverson, Mia Whipkey, Owen Franklin, Drew Hess, Gavin Lueck. Second Team All Conference Brennon Mills, Caleb Nagel, Michael Gepfrey Congratulations on an outstanding season! Go OWLS!
Good luck to the Oscoda Boys Basketball team as they take on Charlevoix in Regional Play at Johannesburg tonight at 7pm. Cheer on the team by getting tickets at
https://gofan.co/app/school/MI3433
. Tickets will go on sale at noon today. We will do our best to stream the game as well at
www.schoolcast.co/oscoda
GO OWLS!
Due to MHSAA protocols, tonight's Boys District Basketball game will be broadcast on the NFHS Network. You can watch the game at this url:
https://bit.ly/3sq722Y
Good morning! The Oscoda Boys Basketball team will be playing Tawas in Whittemore Prescott tonight at 7 pm. The game will be streamed at
www.schoolcast.co/oscoda
and tickets can be purchased on the GoFan Platform.
https://gofan.co/app/school/MI3433
We wish our team good luck and have fun! GO OWLS!

If you are interested in pre-ordering your 2021 OHS Lumberjack Yearbook, please go to:
www.ybpay.lifetouch.com
Our school's Yearbook ID code is 7863521 The cost of each Yearbook is $40. You can personalize your Yearbook by having your name engraved on the cover (additional $5), and you can add icons to represent your hobbies ($3 each). The YB Pay site will accept Visa, Mastercard, Discover or American Express. You can purchase a yearbook in the OHS office for $40 (cash or checks payable to "OHS Lumberjack") but those ones can not be personalized. There are usually a few Yearbooks available for purchase that weren't pre-ordered, but if you'd like to ensure that a Yearbook is reserved for you, I recommend pre-ordering on the Lifetouch website listed above. The deadline to pre-order your book is April 30.