Please see the attached notification regarding school associated cases of COVID-19 reported for Wednesday, January 19th, 2022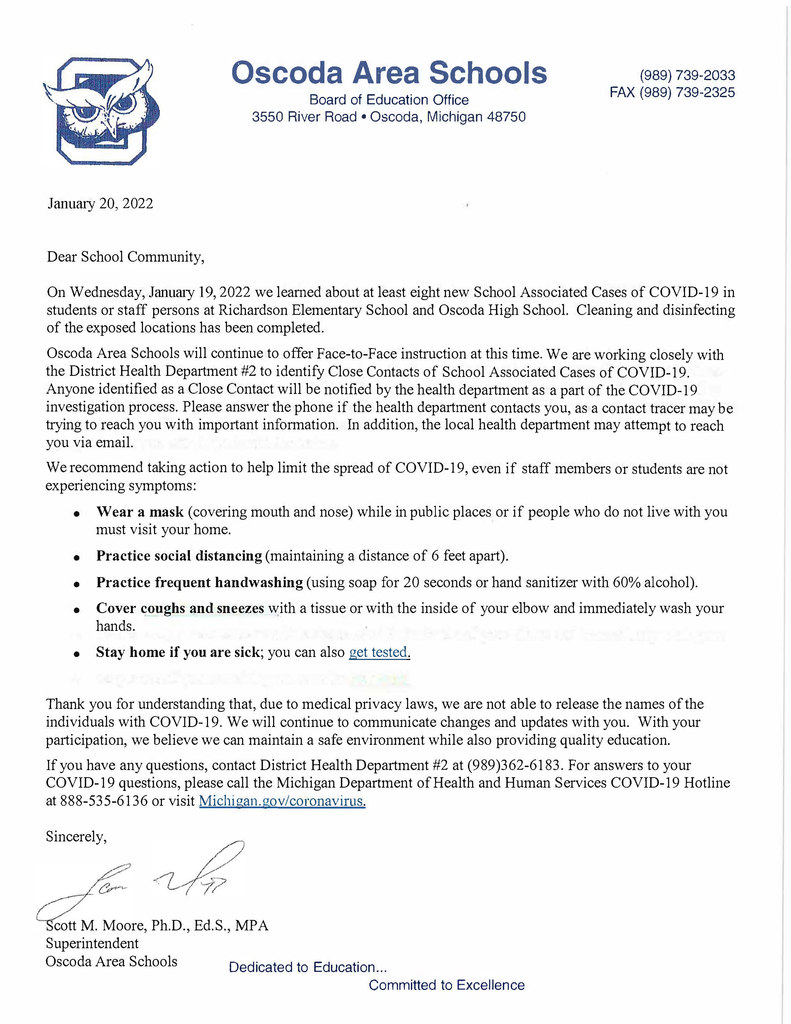 Please see the attached notification regarding school associated cases of COVID-19 reported for Monday January, 17th, 2022 and Tuesday, January 18th, 2022

The NHS will be hosting a blood drive on Thrusday, January 27, 2022 from 8am to 1:45 pm in the OHS Gymnasium. To schedule an appointment, visit
www.redcross.com
with sponsor code Oscoda HS or call 1-800-733-2767.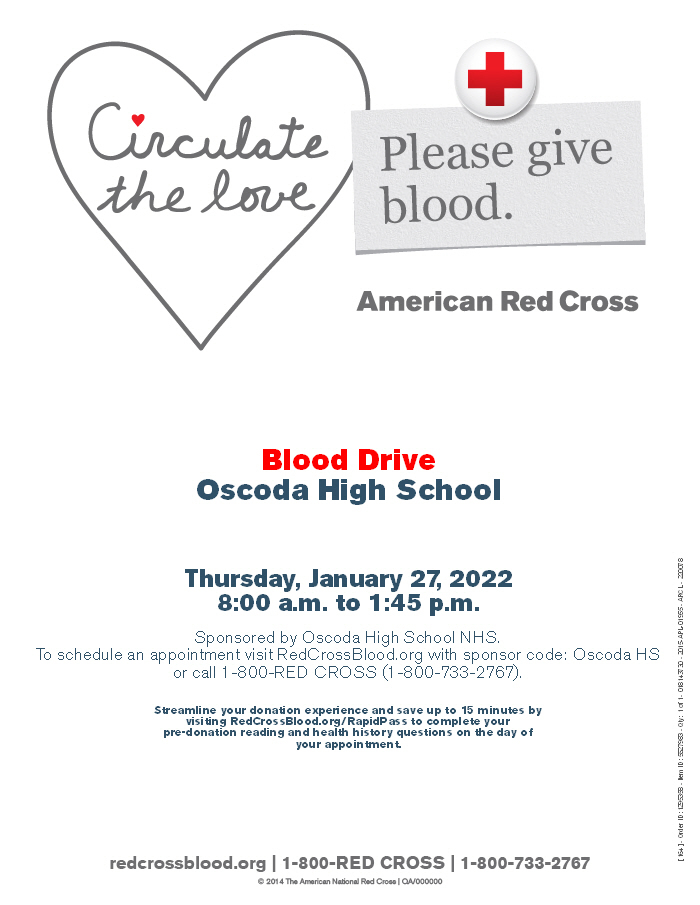 The Oscoda Area High School Musical Theater Class will present their first semester production, "Robin and the Sherwood Hoodies" by Craig Hawes on Sunday, January 16 at 2:00 p.m. in the Mary Anne Bartels Auditorium at Oscoda Area High School. Tickets are $6.00 each and will be available at the door. When the evil Sheriff of Nottingham and his gormless guards threaten the villagers of Sherwood, feisty Maid Marion hires a band of freedom fighters for protection. But when Robin and his Merry Men arrive, she soon discovers they're not exactly what she'd ordered! With no time to lose, she persuades these hapless heroes to take center stage for the performance of their lives - if only they could stick to the script! Follow the most outrageous outlaws in history on their side-splitting, action-packed adventure to defeat the dastardly Sheriff, storm Nottingham Castle, rescue Maid Marion and overthrow King John - all without running their tights! This hysterical show is a riotous romp through the medieval mayhem of Merry England, splattered with shocks and surprises, crazy characters and comic capers. With a score full of catchy, show-stopping songs and a wonderfully witty script as sharp as an arrow, this musical comedy is on target to send you all a-quiver!

OSCODA GIRLS WRESTLING INDIVIDUAL STATE TOURNAMENT This year is a very exciting year for our sport! On May 3rd this spring the MHSAA council approved the request of many coaches, parents, and athletes to make a totally SEPARATE sport for female wrestlers. "Beginning with the 2021-22 school year, a championship division for female competitors who participate on MSHAA member school teams will be added to the individual Wrestling Tournament series. There will be 14 champions awarded, based on weight classes established by the National Federation of State High School Associations. Qualifiers will be determined via a sectional format. Girls will be allowed to continue to compete on boys teams during regular-season and team tournament competition; girls also may choose to compete in the boys individual tournament instead of the girls bracket." -MHSAA Council JOIN OUR WRESTLING FAMILY No matter your experience level or background our team loves to support and make each other better everyday on AND off the mat. It truly is a family-like relationship between teammates. Wrestling is like no other sport, each member of the team is crucial to our success. You gain numerous life skills that carry over into our work, home, and social lives; mental toughness, reliability, sportsmanship, goal setting, self-discipline, etc. In addition, we are fortunate to have two well qualified female coaches, Coach Erickson wrestled three years for Oscoda and coached for one and Coach Newcomb wrestled in high school for three years. If you have any other questions or concerns please contact Coach Lopez. PRACTICE GOALS: • LEARN or IMPROVE ON SOMETHING • LEAVE THE ROOM BETTER THAN YOU CAME IN • HELP SOMEONE ELSE GET BETTER • The most important thing is WRESTLING IS FUN!

Nominations are being accepted for Oscoda Area Schools Distinguished Alumni Award. If you know someone that should be recognized please submit the completed application to Mr. Allison at
allisont@oscodaschools.org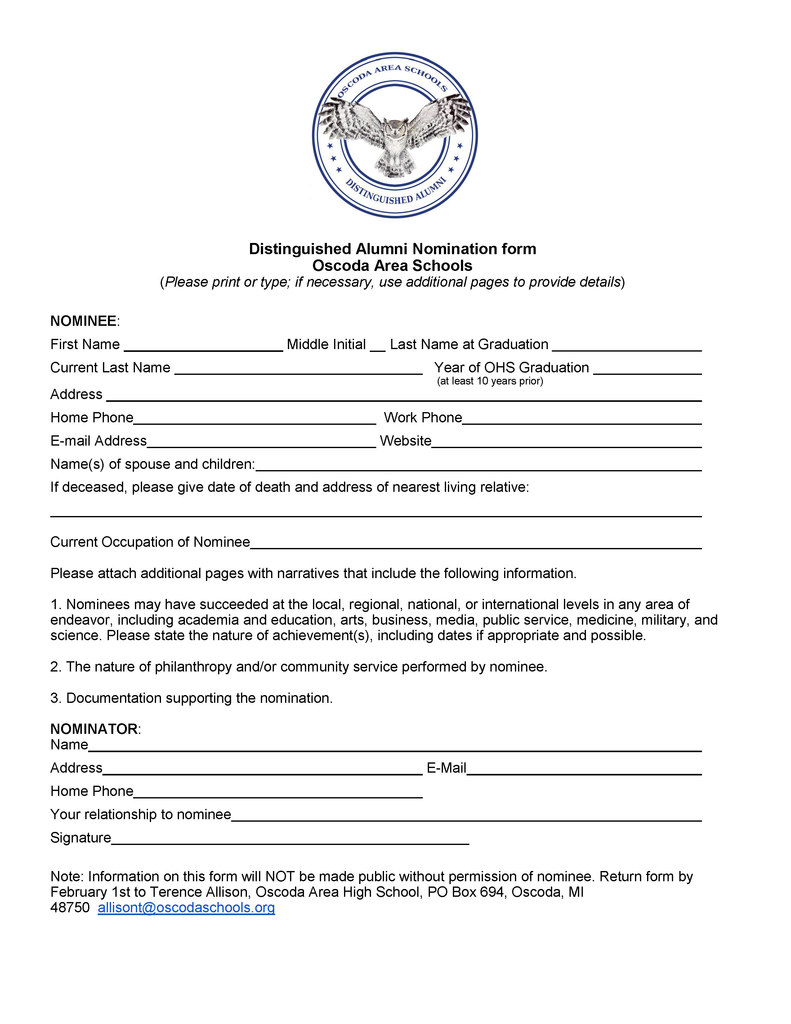 Oscoda Area Schools would like to extend our gratitude to Sandcastle Beach Resort for their generous donation to our Backpack Program today. Tom and Stacy stopped by the school today to drop off their donation and we couldn't be more grateful for their support!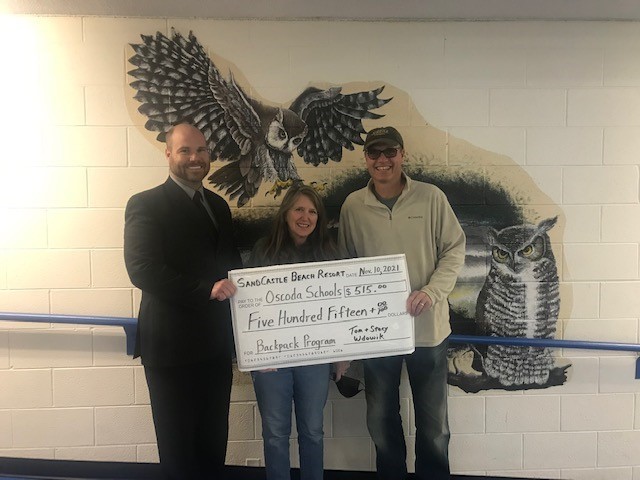 The Owl Varsity Soccer team defeated Roscommon by a score of 6-0 last night in MHSAA District Semifinals. Oscoda will advance to the final round of districts on Saturday, October 23, 2021 at 3 p.m. here in Oscoda. If you are attending the event, you must purchase tickets ahead of time at GoFan. You can access tickets through the website at GoFan.co or by downloading the mobile app. You can also use the link below to purchase tickets. Tickets are $7.30/ticket.
https://gofan.co/app/events/405342?schoolId=MI3433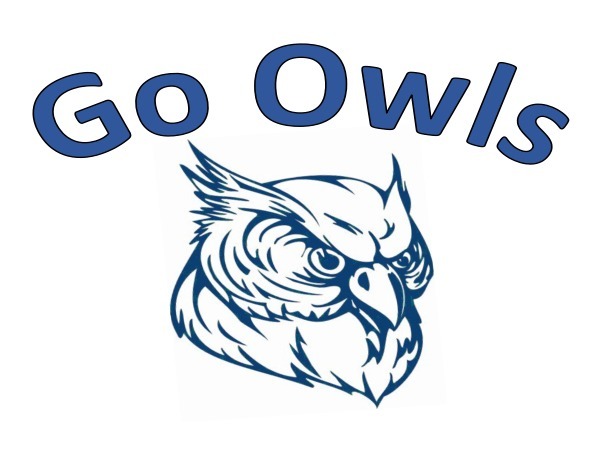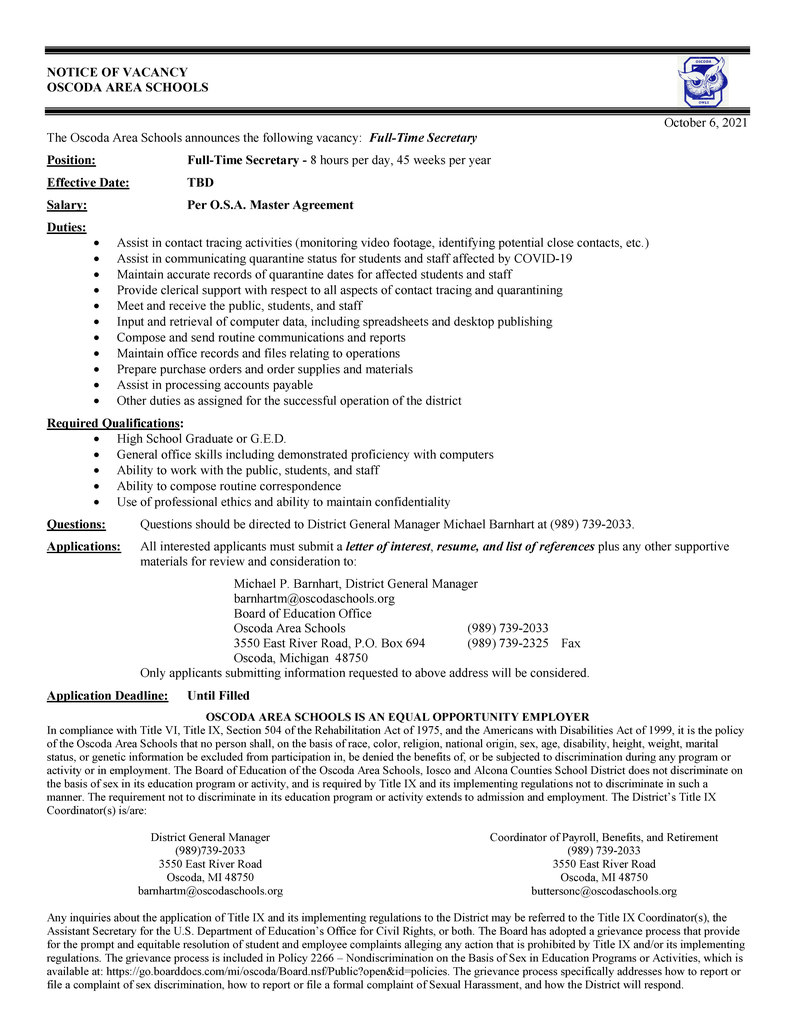 Can you believe that we are already 4 weeks into the school year? It has gone by quickly. Today Chester wrapped up week #4 by getting a haircut. Thank you to Sunrise Side Grooming Salon for once again taking Chester from shabby to chic. We appreciate your sponsorship! Take a look at the before and after. He looks great! Thank you!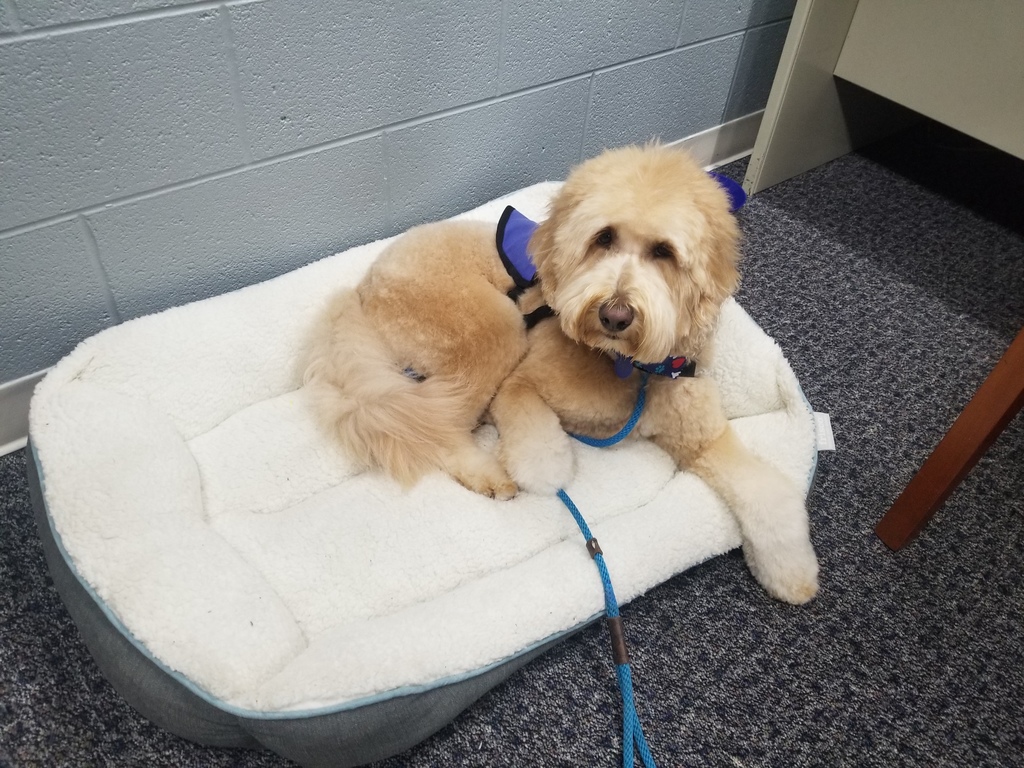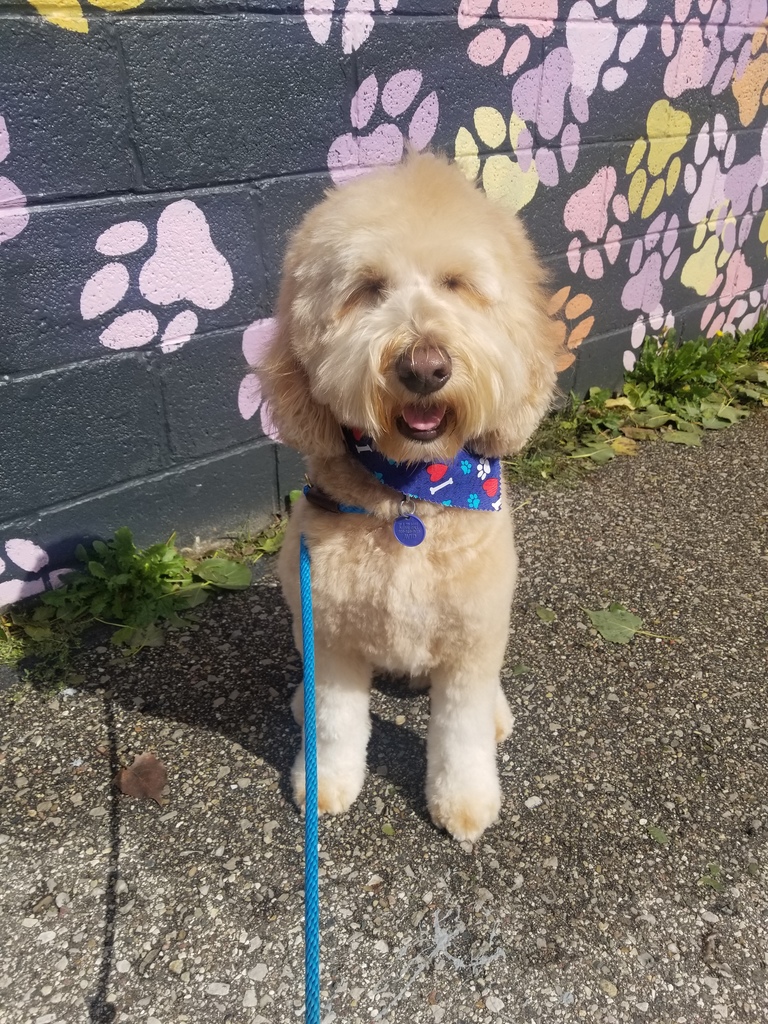 We are still looking for volunteers to assist with the concession stand for tonight (9/16/21) and tomorrow night's (9/17/21) football games. If interested please contact Coach Whitley via email at
whitleym@oscodaschools.org

Welcome back to school Oscoda Area Schools families. Attached you will find the Richardson Elementary School's lunch menu.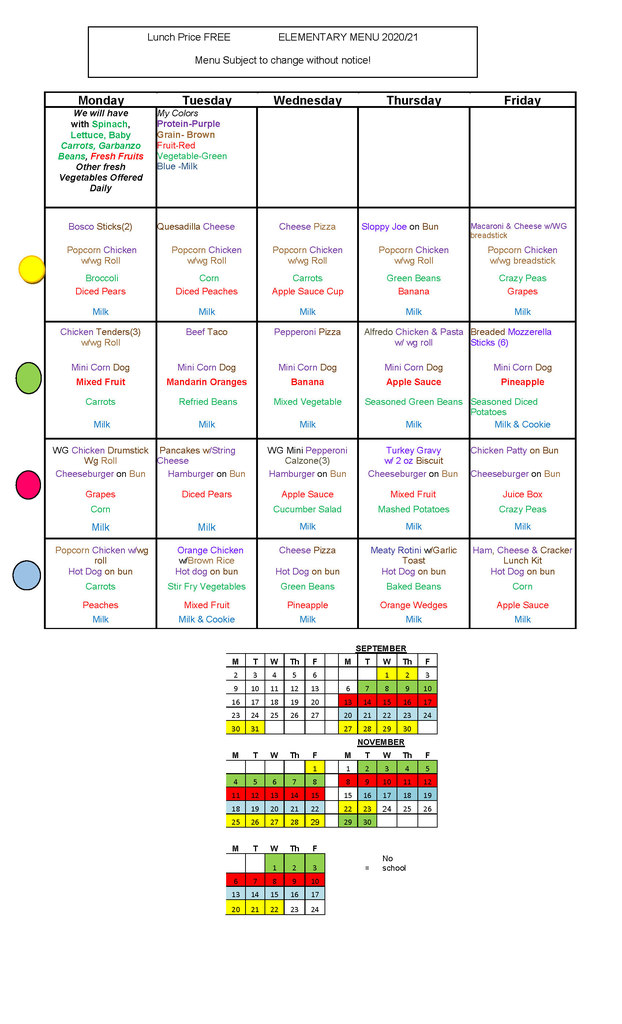 We hope everyone is getting excited about the start of a new school year. Today Chester checked something off of his back to school list. He got his back to school haircut/groom and is looking refreshed to see students on August 30th. He is excited to kick off a new year. Thank you to Sunrise Side Grooming Salon for making this happen! We are very appreciative of all of our sponsors of Chester. Go Owls!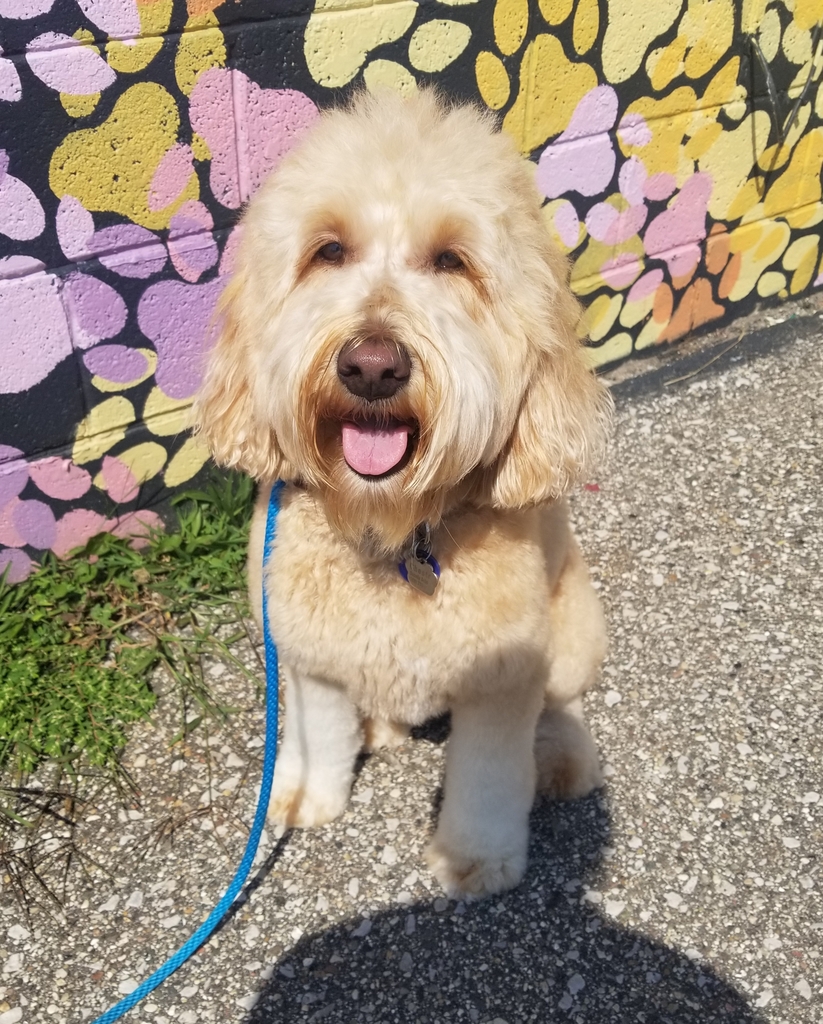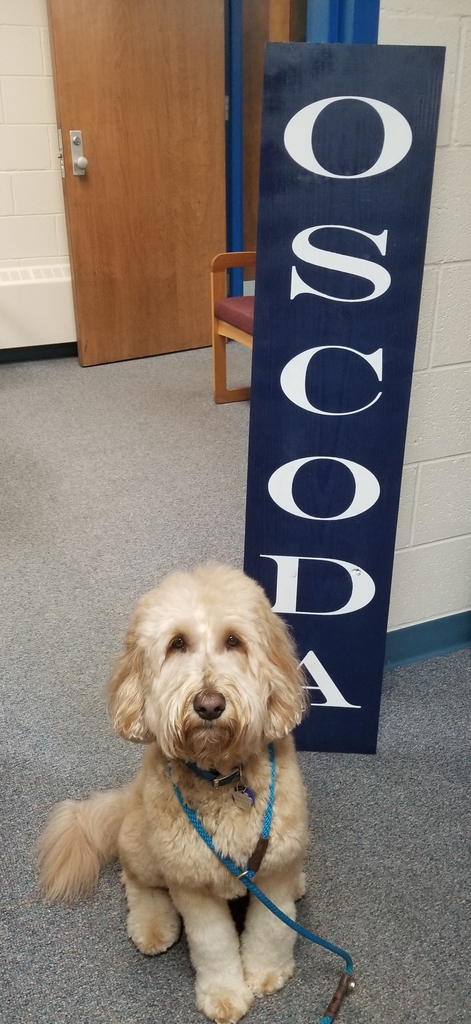 Good Morning OHS Families, 7th-12th grade schedules are live this morning. Families and students can go into Skyward to access their schedule today. However, prior to getting access to a schedule, parents/guardians must sign in through the Family Skyward Access to complete an update of the information in Skyward. To get access to Skyward go to:
https://www.oscodaschools.org/o/oas/page/parents--882
On the left hand side is Skyward Family Access, which is where you can log in. If you are unsure of your password, you can call the office at 989-739-9121 ext. 2203 to have it reset. On the left is also a request form, if you do not already have access. Having the information in Skyward updated is important for the health and safety of our students. Once the information is updated, then the schedules will be available to be viewed by the parent and the student. We hope everyone has a great Wednesday! Go Owls!

The National Honor Society is hosting a blood drive on August 11, 2021 from 10:00 a.m. to 3:45 p.m. Check out the attached flier for additional details.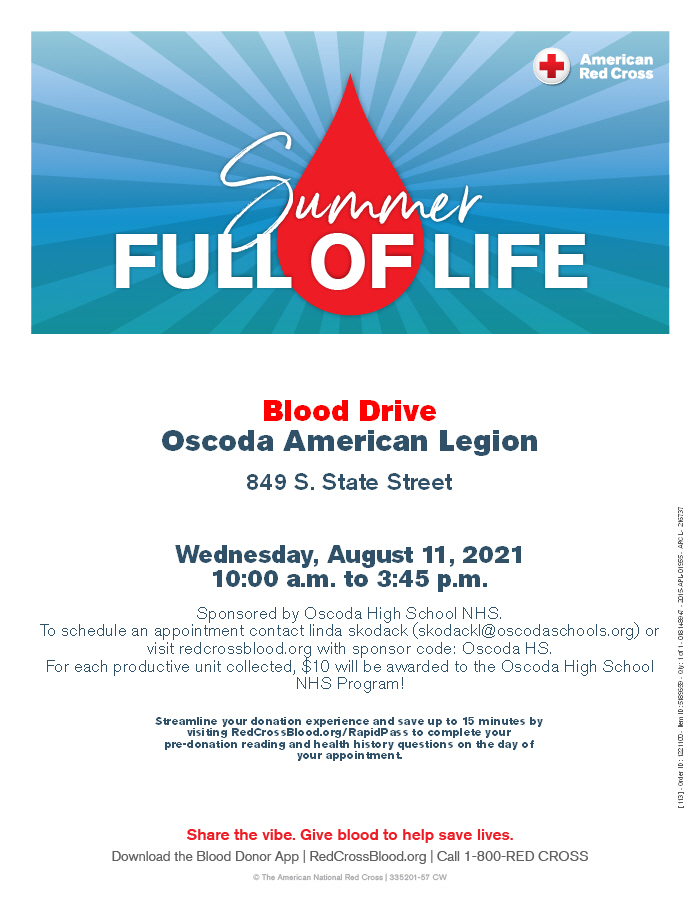 The school year may be coming to a close, but our Social Emotional Team wanted to make sure the families that we serve have up-to-date information regarding various community resources. In addition, our team will be available to support the social emotional needs of our students throughout the summer. Mrs. Martin, Mrs. Ortiz, and Ms. Hamilton will be available via email at
martina@oscodaschools.org
,
ortizc@oscodaschools.org
, and
hamiltons@oscodaschools.org
. Please do not hesitate to reach out for assistance if you are in need. Have a great summer and go Owls!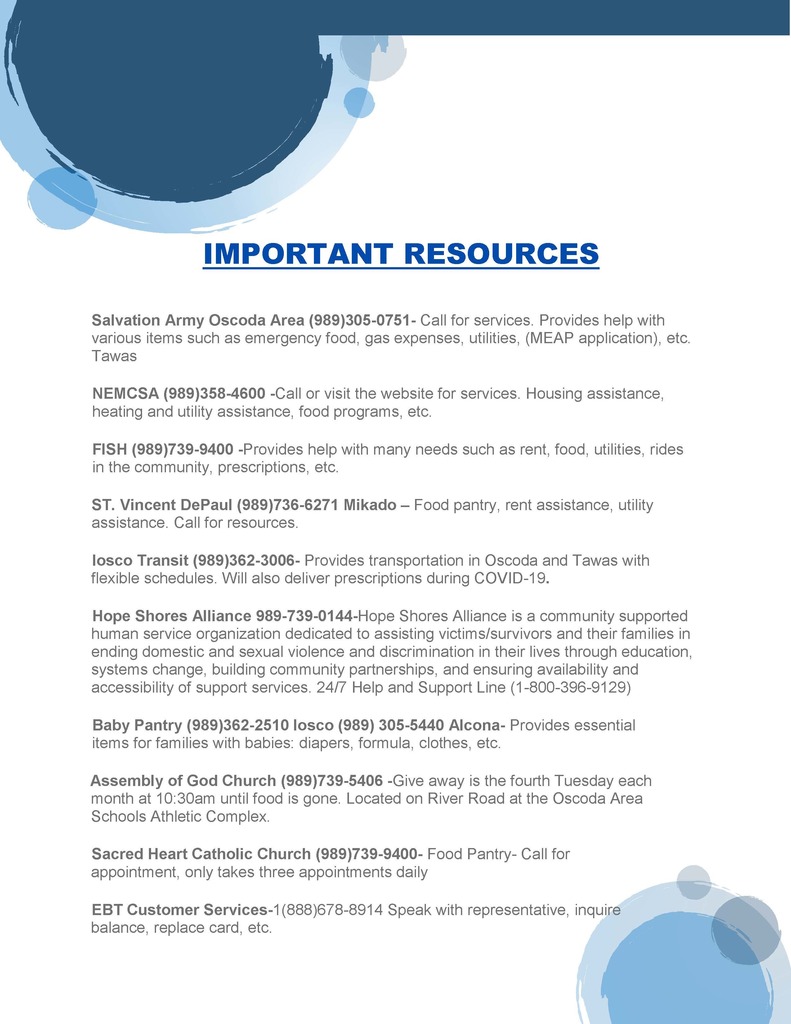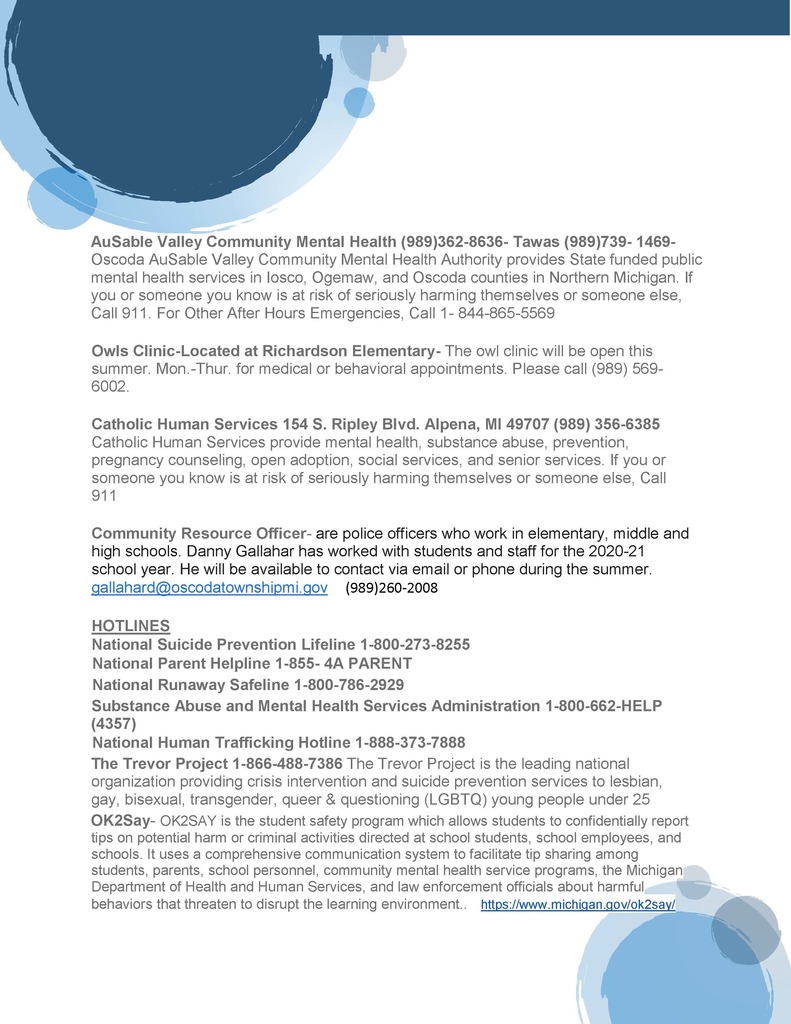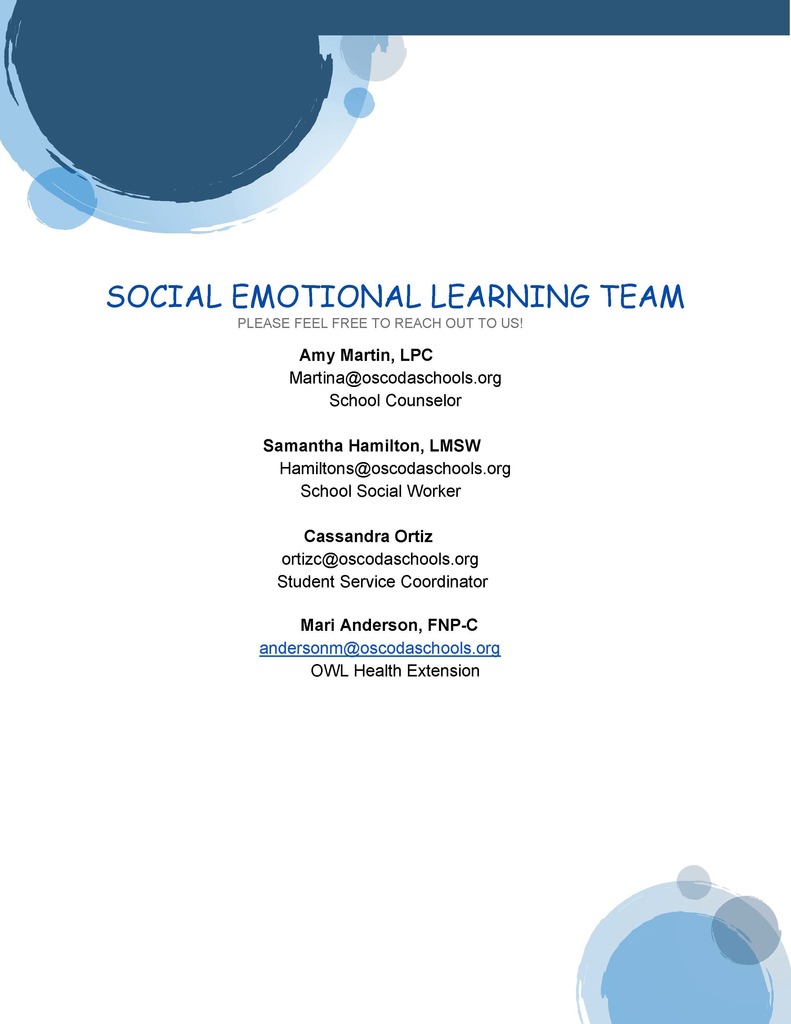 Parents of current fifth and sixth graders - if your child would like to join Beginning Band in the fall, please email Mrs. Lopez (
lopezk@oscodaschools.org
) with the name of your child, and the grade that they will be in when school begins in the fall. Students do not need any prior music experience, and do not yet need to own an instrument. Instruments fittings will be done once school starts for the 2021-2022 school year. Please see the attached flyer for additional information.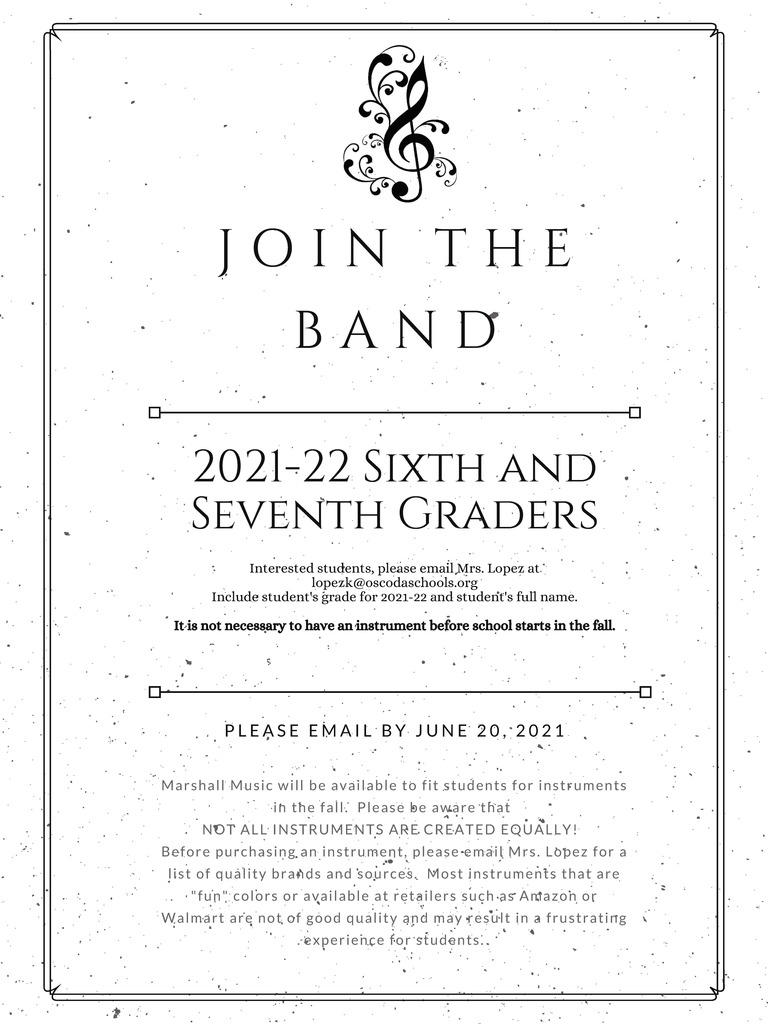 On May 24th, 2021, 23 Third Grade students participated in the annual Spelling Bee at RES. We congratulate all students for the courage and efficacy to represent our Third Grade in this year's Spelling Bee. After several spelling rounds, Sharon Brinn (pictured) was honored with 1st Place, Aria Budnick with 2nd Place, and Mackenzie Giffin (pictured) with Third Place. Great job to all of our participants this year and to Mr. Charlie Negro for conducting the Spelling Bee!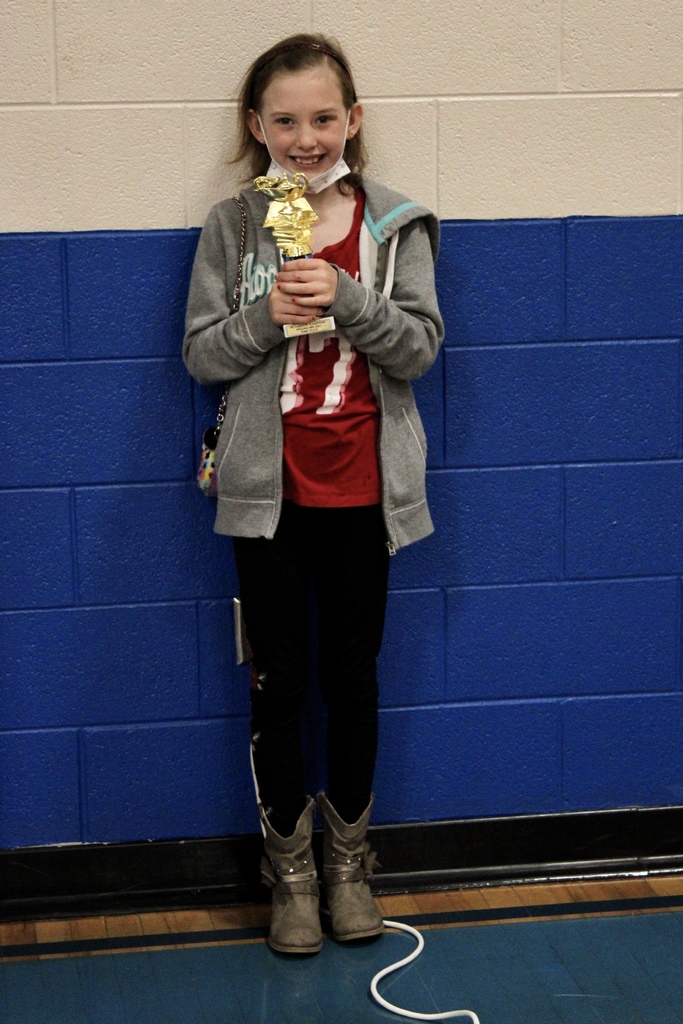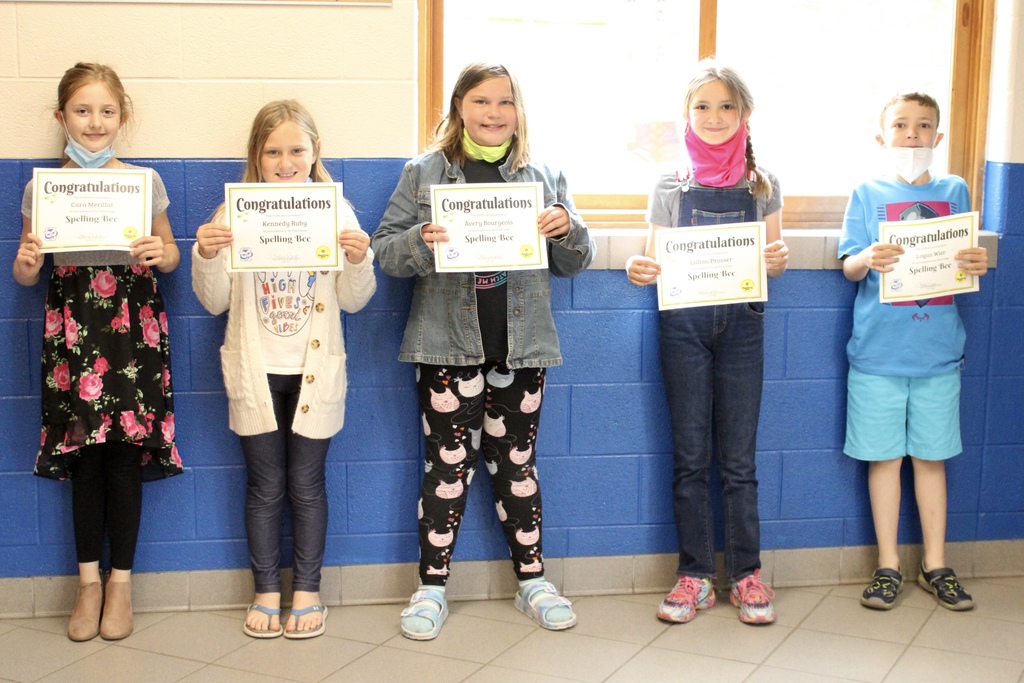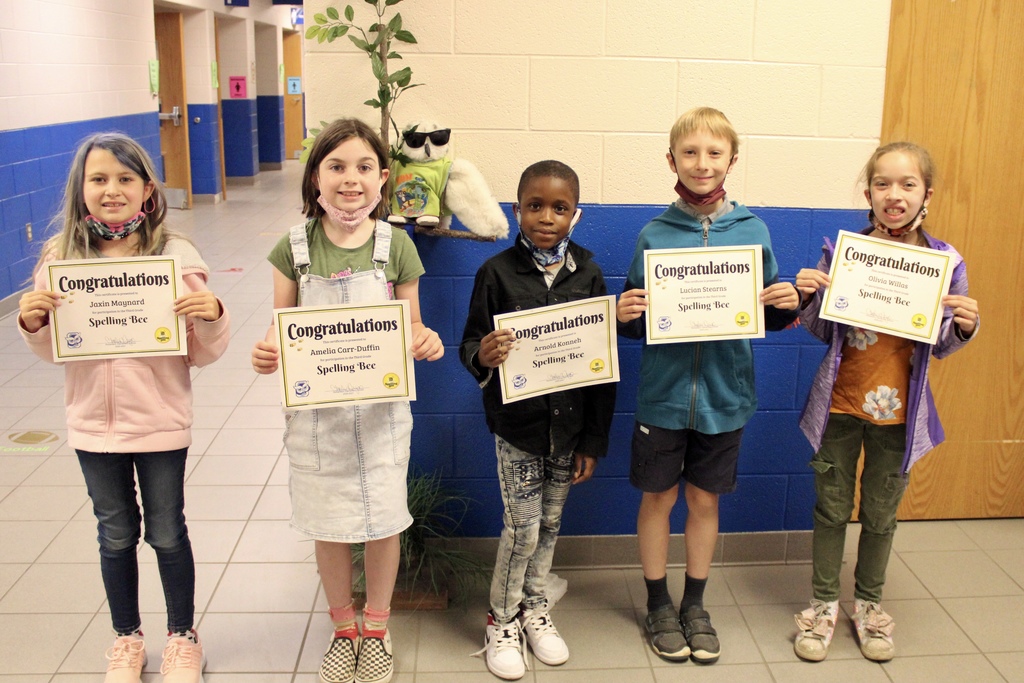 The June 2021 Observer is now available electronically! Check out our latest edition in honor of the class of 2021! Good Luck Graduates!
https://5il.co/t16r