Oscoda Area Schools would like to extend our gratitude to Sandcastle Beach Resort for their generous donation to our Backpack Program today. Tom and Stacy stopped by the school today to drop off their donation and we couldn't be more grateful for their support!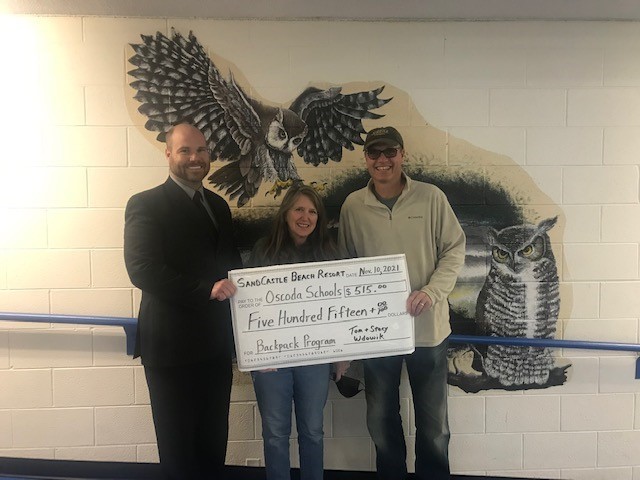 The Owl Varsity Soccer team defeated Roscommon by a score of 6-0 last night in MHSAA District Semifinals. Oscoda will advance to the final round of districts on Saturday, October 23, 2021 at 3 p.m. here in Oscoda. If you are attending the event, you must purchase tickets ahead of time at GoFan. You can access tickets through the website at GoFan.co or by downloading the mobile app. You can also use the link below to purchase tickets. Tickets are $7.30/ticket.
https://gofan.co/app/events/405342?schoolId=MI3433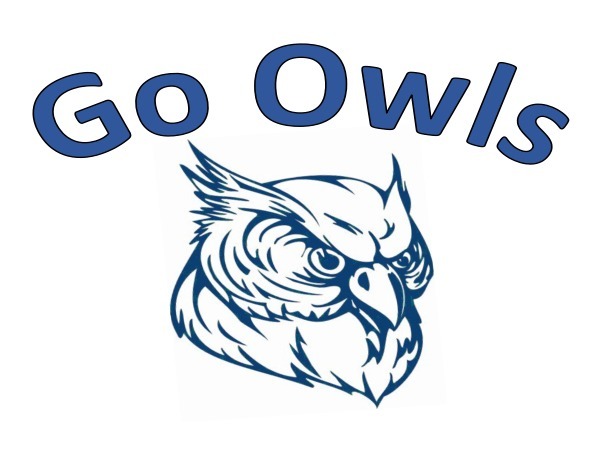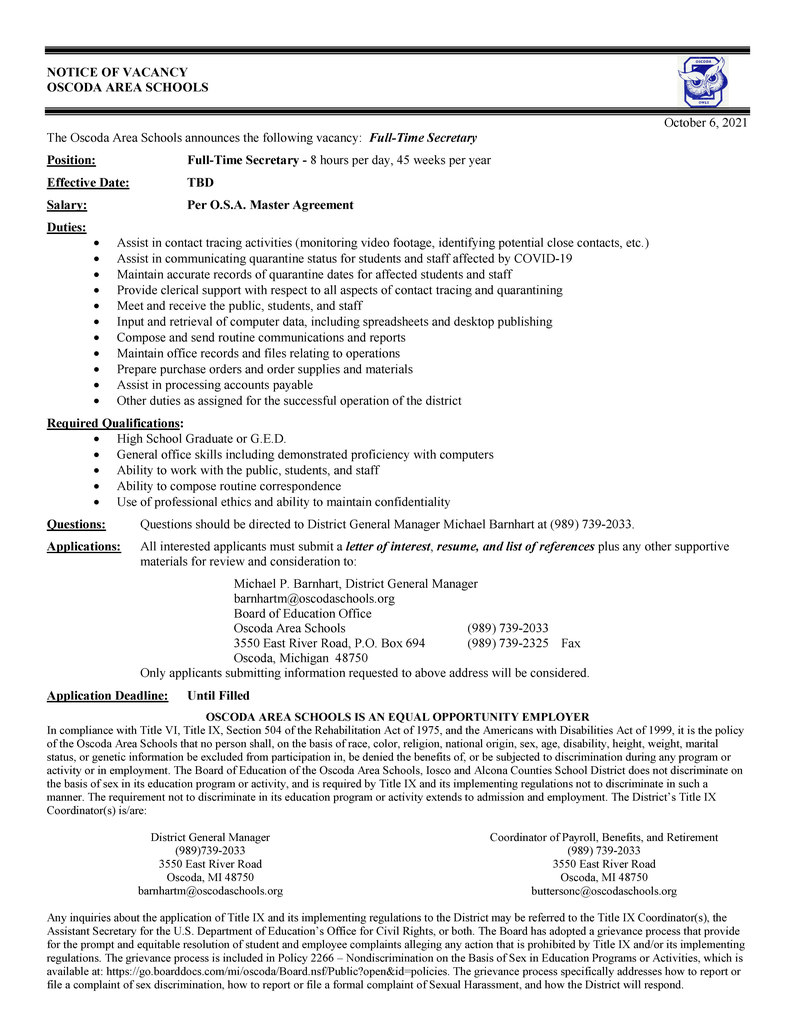 Can you believe that we are already 4 weeks into the school year? It has gone by quickly. Today Chester wrapped up week #4 by getting a haircut. Thank you to Sunrise Side Grooming Salon for once again taking Chester from shabby to chic. We appreciate your sponsorship! Take a look at the before and after. He looks great! Thank you!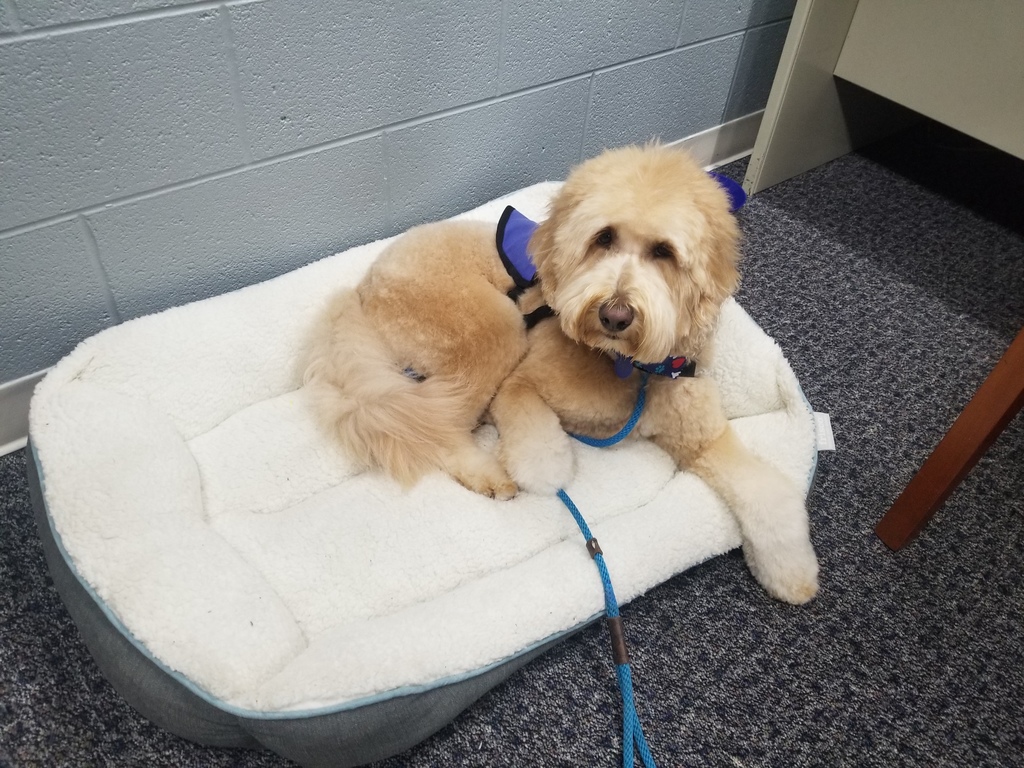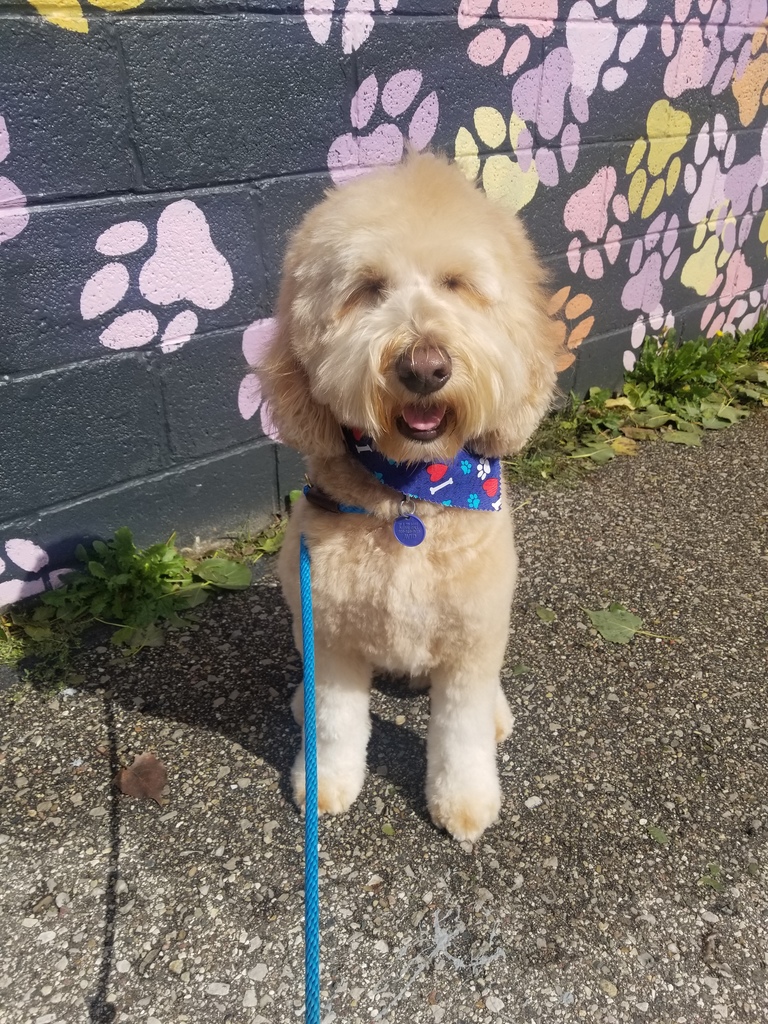 We are still looking for volunteers to assist with the concession stand for tonight (9/16/21) and tomorrow night's (9/17/21) football games. If interested please contact Coach Whitley via email at
whitleym@oscodaschools.org

Welcome back to school Oscoda Area Schools families. Attached you will find the Richardson Elementary School's lunch menu.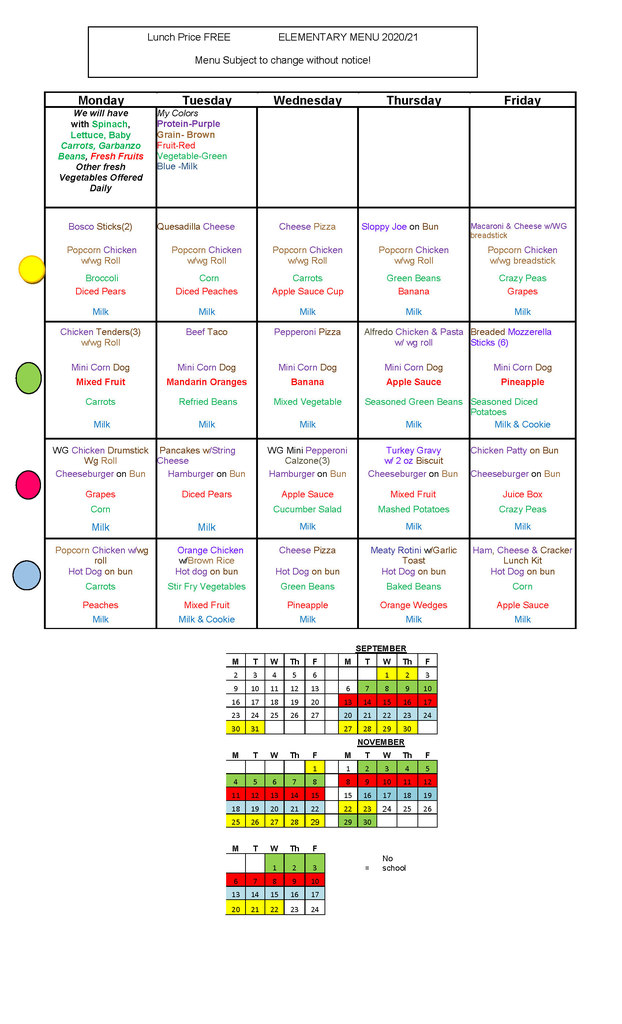 We hope everyone is getting excited about the start of a new school year. Today Chester checked something off of his back to school list. He got his back to school haircut/groom and is looking refreshed to see students on August 30th. He is excited to kick off a new year. Thank you to Sunrise Side Grooming Salon for making this happen! We are very appreciative of all of our sponsors of Chester. Go Owls!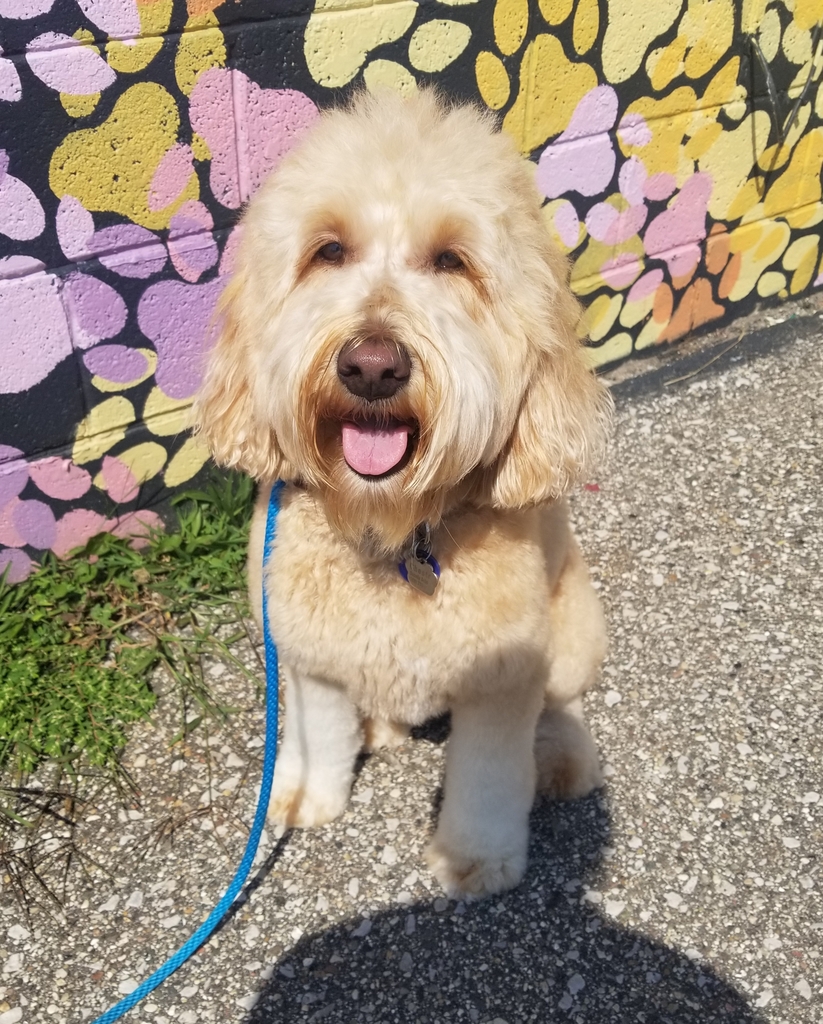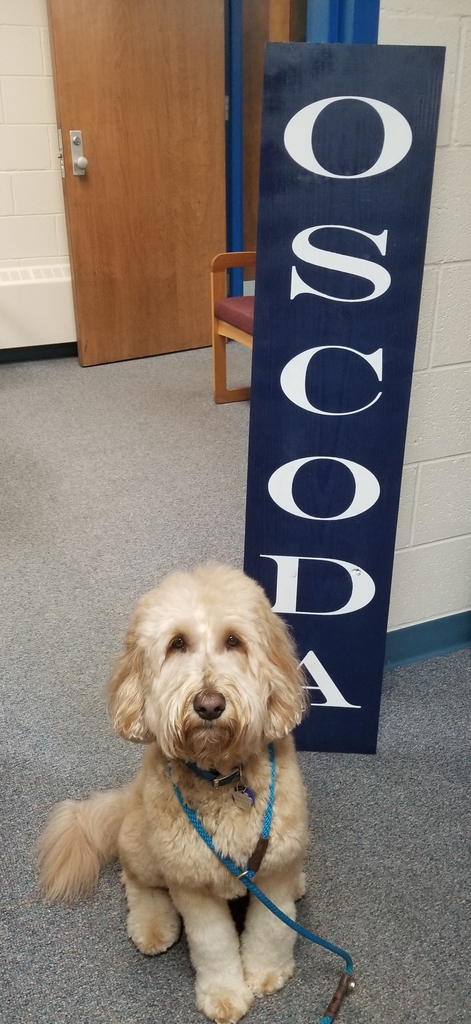 Good Morning OHS Families, 7th-12th grade schedules are live this morning. Families and students can go into Skyward to access their schedule today. However, prior to getting access to a schedule, parents/guardians must sign in through the Family Skyward Access to complete an update of the information in Skyward. To get access to Skyward go to:
https://www.oscodaschools.org/o/oas/page/parents--882
On the left hand side is Skyward Family Access, which is where you can log in. If you are unsure of your password, you can call the office at 989-739-9121 ext. 2203 to have it reset. On the left is also a request form, if you do not already have access. Having the information in Skyward updated is important for the health and safety of our students. Once the information is updated, then the schedules will be available to be viewed by the parent and the student. We hope everyone has a great Wednesday! Go Owls!

The National Honor Society is hosting a blood drive on August 11, 2021 from 10:00 a.m. to 3:45 p.m. Check out the attached flier for additional details.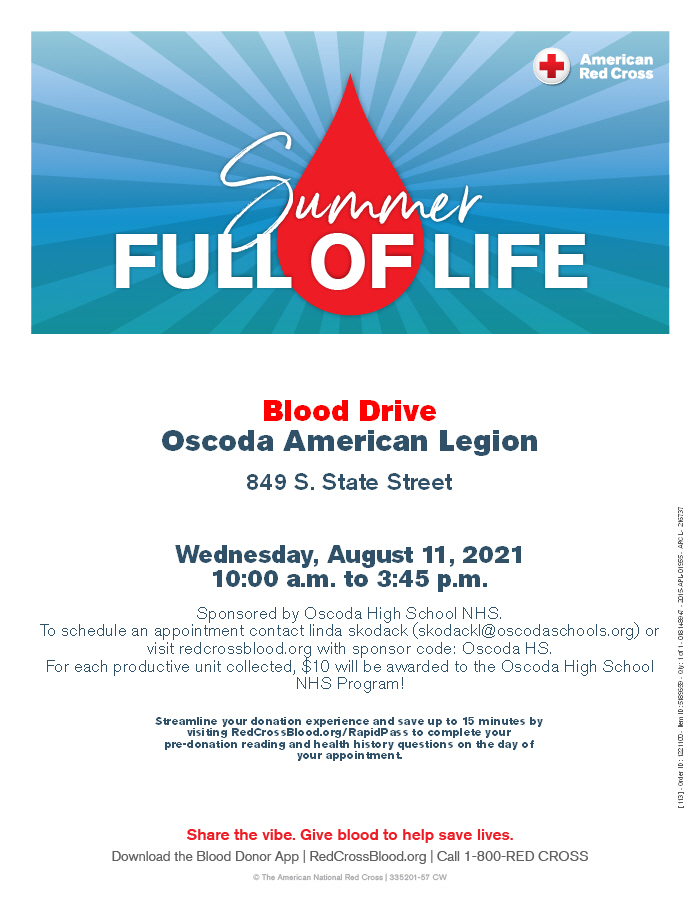 The school year may be coming to a close, but our Social Emotional Team wanted to make sure the families that we serve have up-to-date information regarding various community resources. In addition, our team will be available to support the social emotional needs of our students throughout the summer. Mrs. Martin, Mrs. Ortiz, and Ms. Hamilton will be available via email at
martina@oscodaschools.org
,
ortizc@oscodaschools.org
, and
hamiltons@oscodaschools.org
. Please do not hesitate to reach out for assistance if you are in need. Have a great summer and go Owls!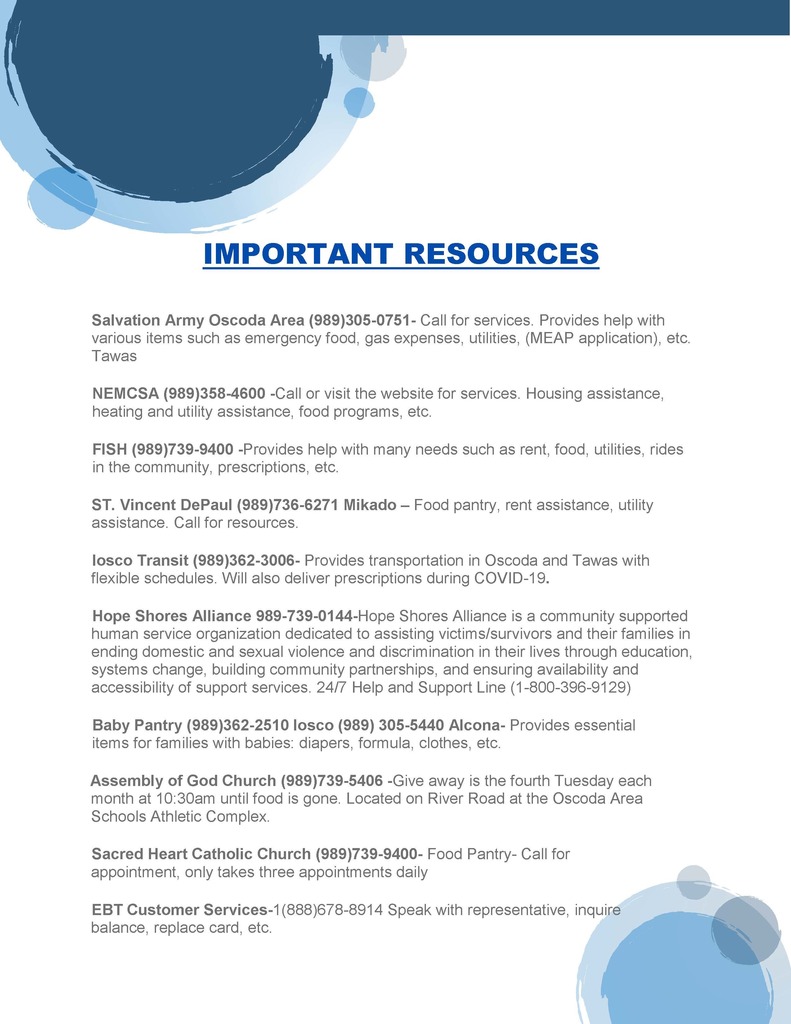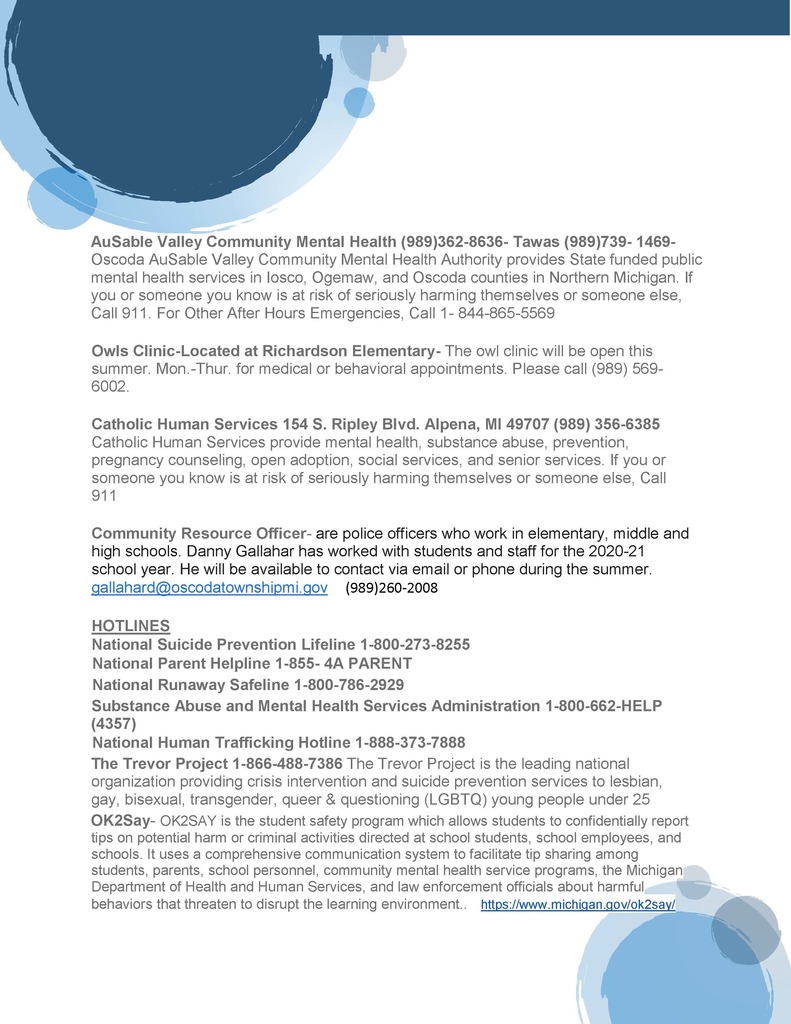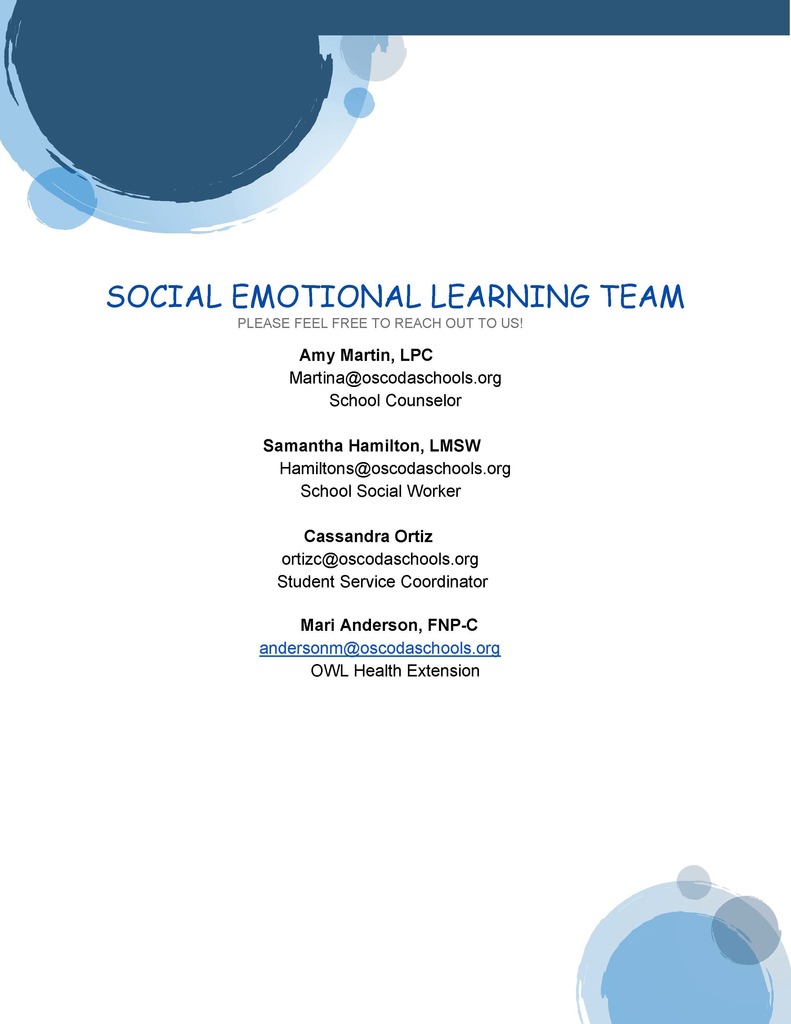 Parents of current fifth and sixth graders - if your child would like to join Beginning Band in the fall, please email Mrs. Lopez (
lopezk@oscodaschools.org
) with the name of your child, and the grade that they will be in when school begins in the fall. Students do not need any prior music experience, and do not yet need to own an instrument. Instruments fittings will be done once school starts for the 2021-2022 school year. Please see the attached flyer for additional information.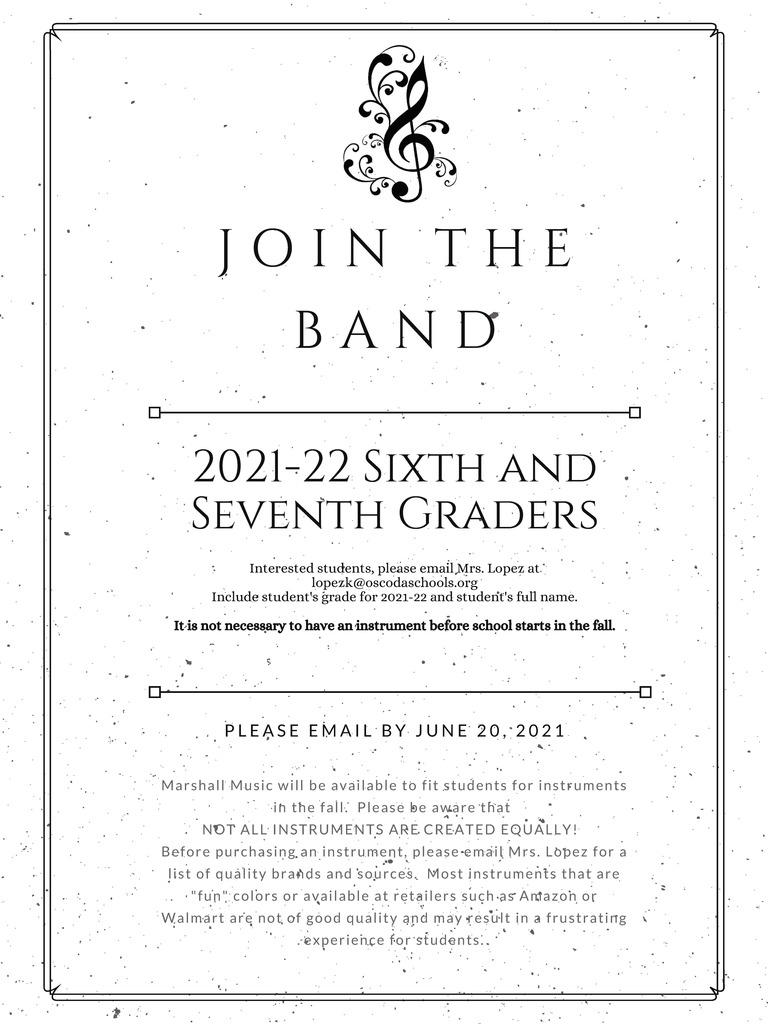 On May 24th, 2021, 23 Third Grade students participated in the annual Spelling Bee at RES. We congratulate all students for the courage and efficacy to represent our Third Grade in this year's Spelling Bee. After several spelling rounds, Sharon Brinn (pictured) was honored with 1st Place, Aria Budnick with 2nd Place, and Mackenzie Giffin (pictured) with Third Place. Great job to all of our participants this year and to Mr. Charlie Negro for conducting the Spelling Bee!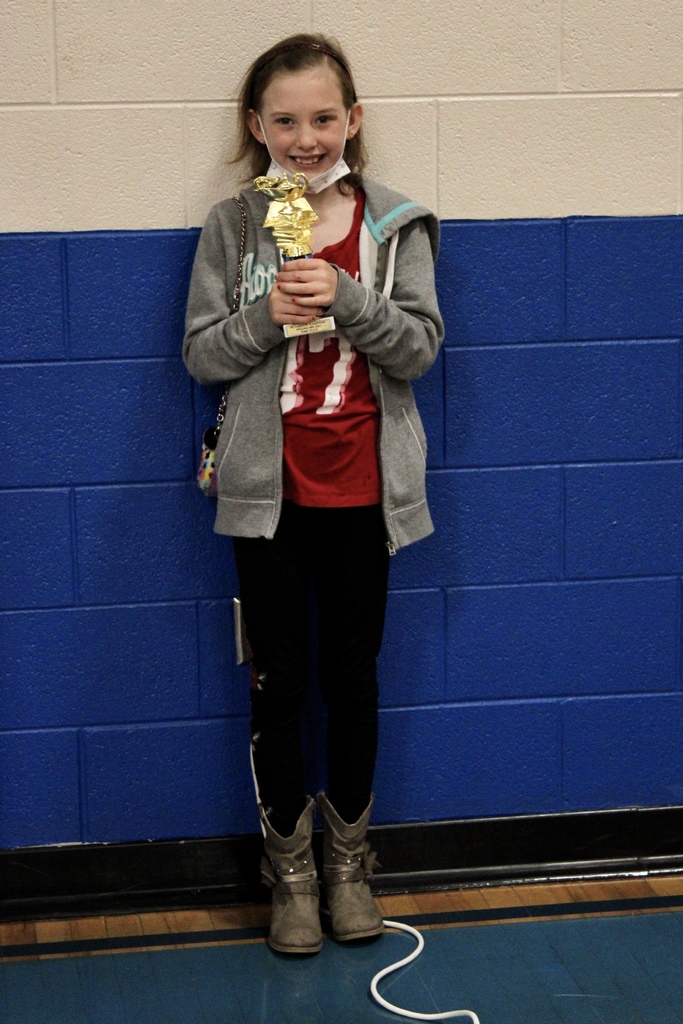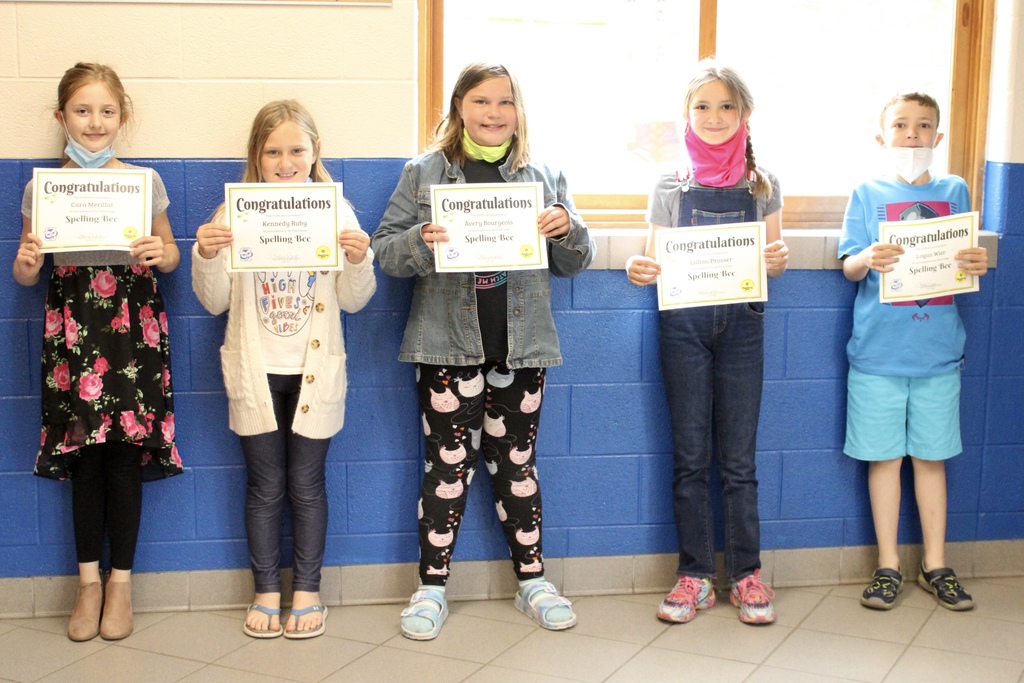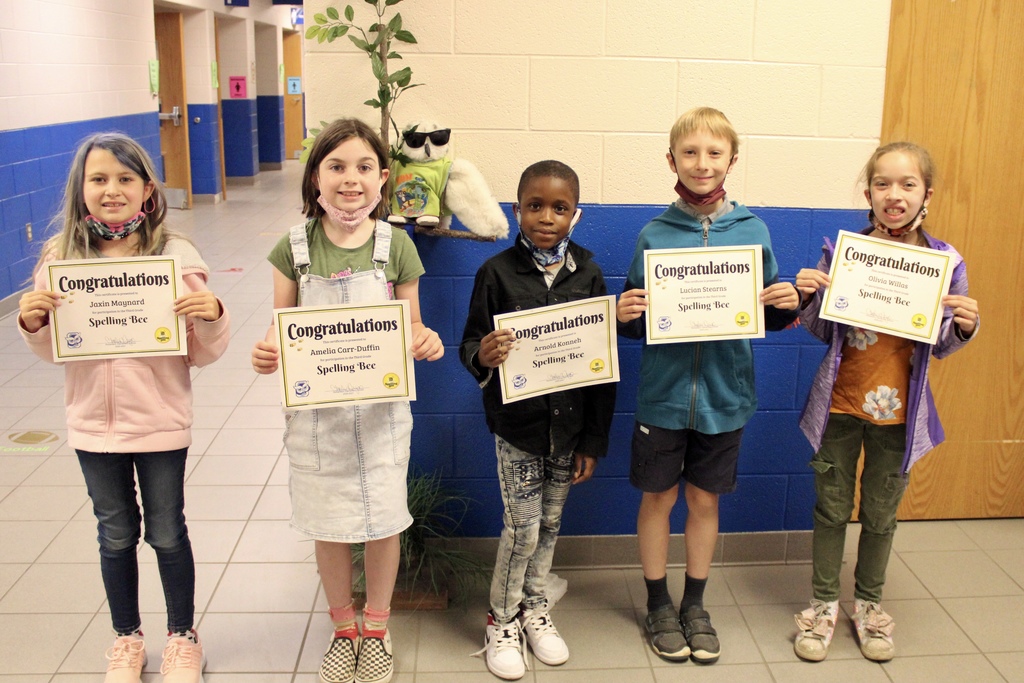 The June 2021 Observer is now available electronically! Check out our latest edition in honor of the class of 2021! Good Luck Graduates!
https://5il.co/t16r

Need help with internet access? Check out the attached flier for more information related to the FCC's Emergency Broadband Benefit.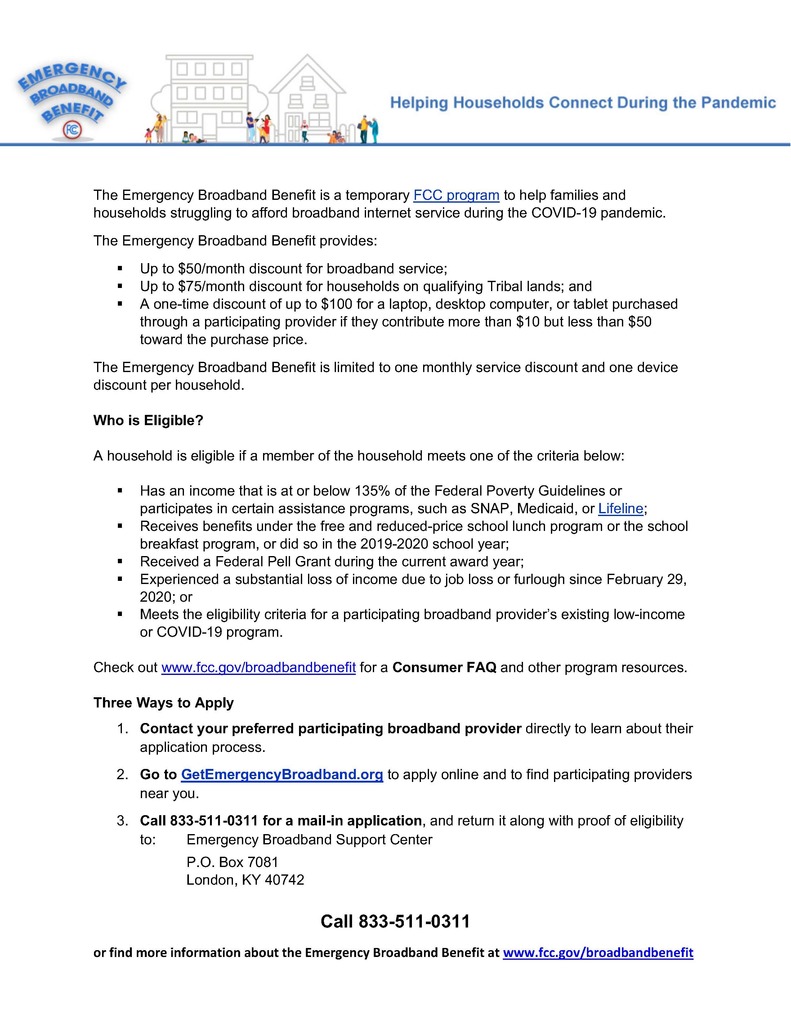 The Emergency Broadband Benefit is an FCC program to help families and households struggling to afford internet service during the COVID-19 pandemic. This new benefit will connect eligible households to jobs, critical healthcare services, virtual classrooms, and so much more. FCC Internet Discount Program for parents/students
https://www.fcc.gov/broadbandbenefit
About the Emergency Broadband Benefit The Emergency Broadband Benefit will provide a discount of up to $50 per month towards broadband service for eligible households and up to $75 per month for households on qualifying Tribal lands. Eligible households can also receive a one-time discount of up to $100 to purchase a laptop, desktop computer, or tablet from participating providers if they contribute more than $10 and less than $50 toward the purchase price.

The Office of Highway Safety Planning is collaborating with the ThinkFirst organization to offer a free Virtual Parent Program. This is a great opportunity for parents who have children near driving age to learn more in preparation of their teens hitting the road. More details can be found on the attached flier.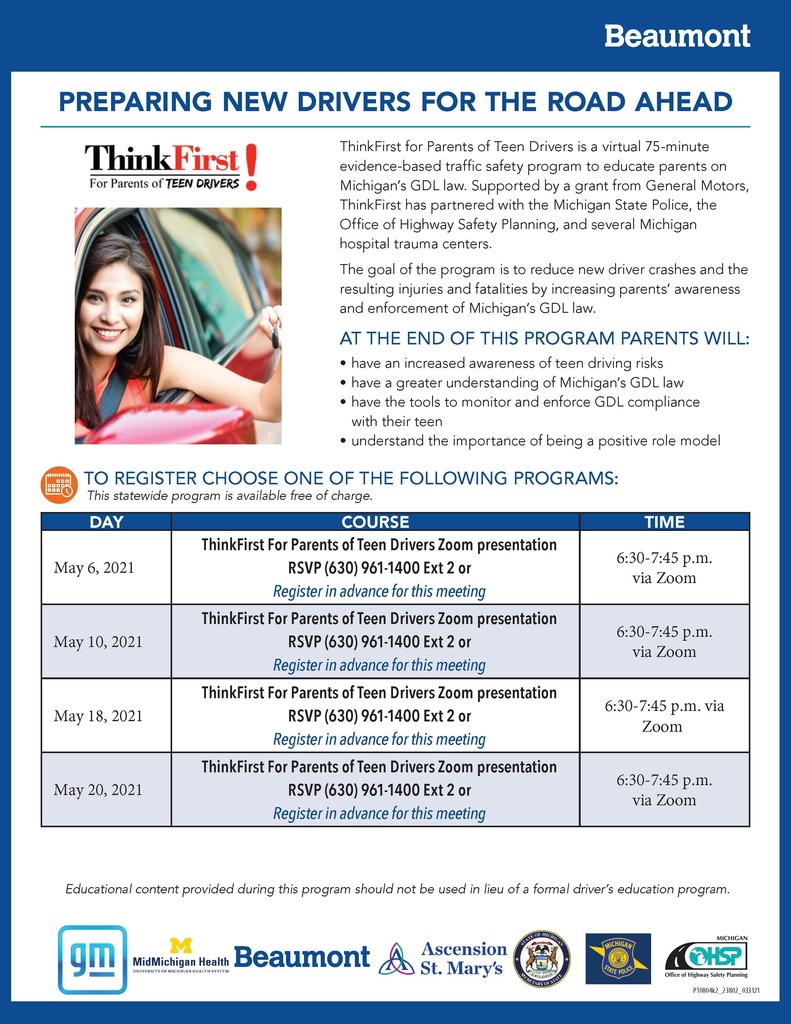 Alpena Community College is hosting a 3 day job fair event! This "Just Jobs Week" event will allow job seekers to meet with multiple local employers in one location! Check out the attached flier for more information. We hope to see you there!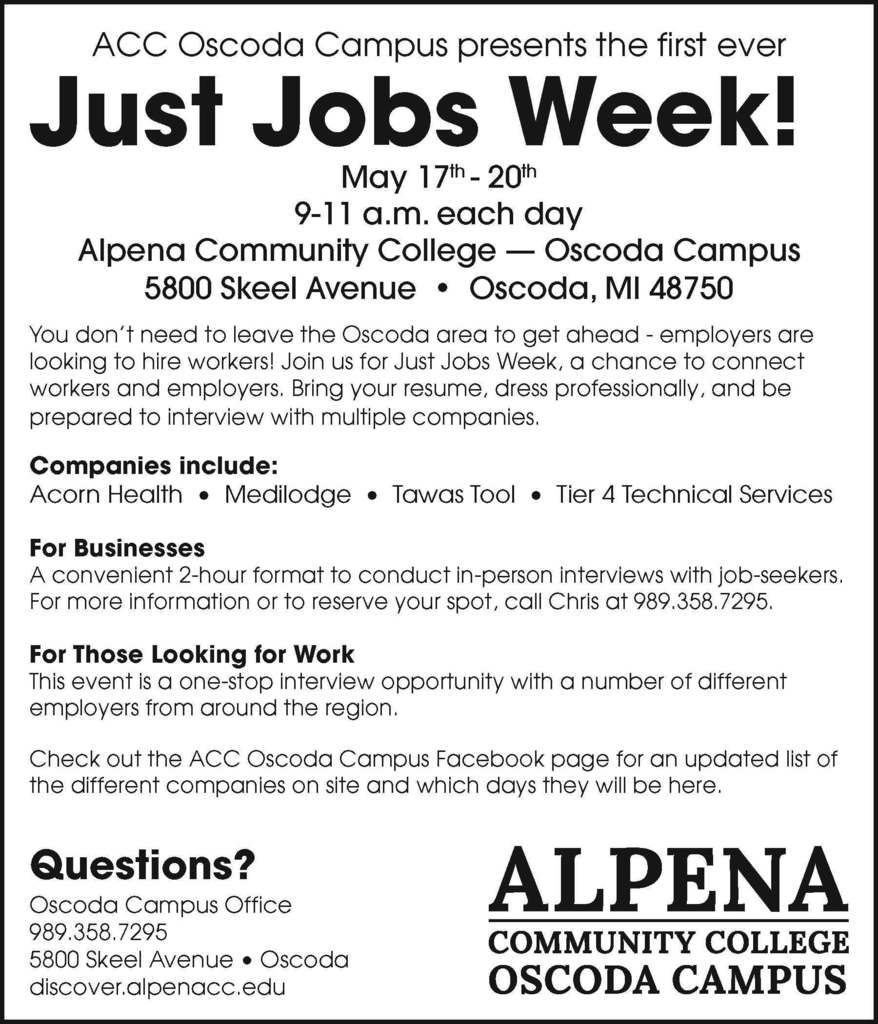 OAS families, Students in 3rd-11th grades are still expected to complete state testing this spring. Attached is the revised calendar for state testing. If you have any questions about the state testing requirements, please contact your child's teacher and/or building. They can then provide some more guidance. We will work on having the best testing environment that we can for our students and know that they will rock whatever test that they need to complete. Go Owls!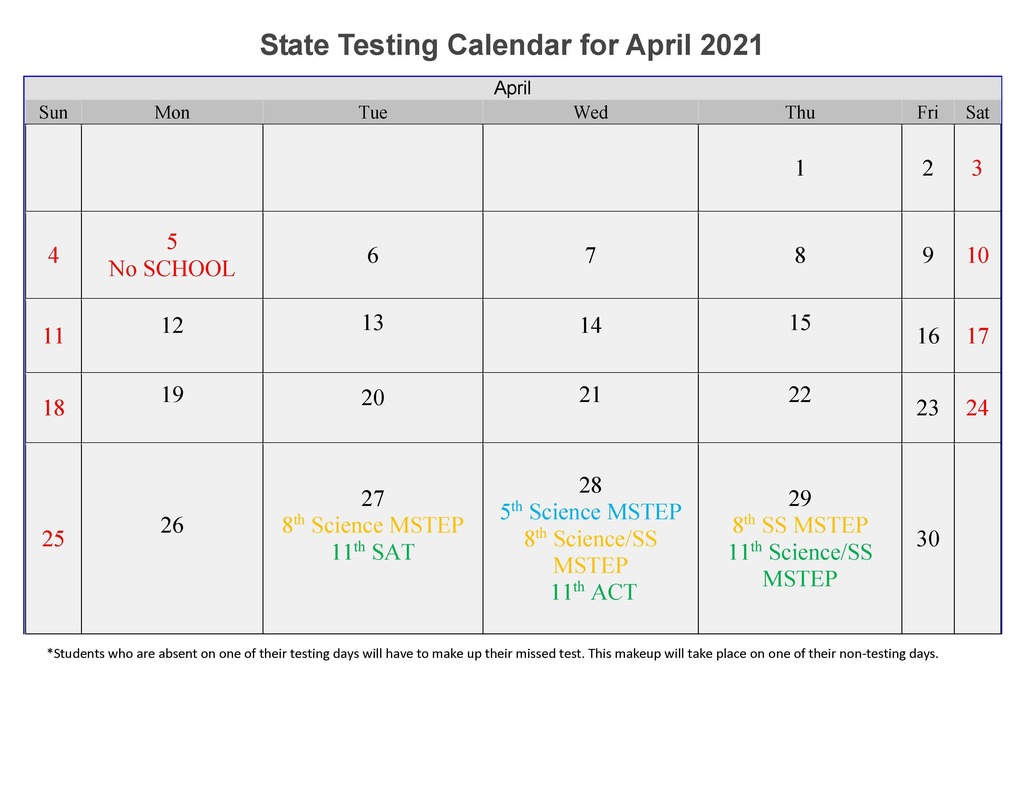 Happy Virtual Learning Friday! We made it through the first week of the 4th marking period. The end of the year is going to come quickly. Here are the RES announcements for this week: *Students in Michigan in grades 3rd-11th are still expected to complete state testing this spring. The week of April 12th, 8th, 9th, 10th, and 11th grade students will be completing some of this state testing. 8th-10th graders will be taking the PSAT and the 11th graders will be taking the SAT and the Work Keys ACT test. Be looking for emails pertaining to the exact testing times along with more information. If a student is unable to test next week, then they will have an opportunity to complete the test during a makeup time later in the month. For RES our 5th grade students will be the first ones testing. They will be testing the week of April 19th. It is very important that students are well rested and attend school these days (if this is possible). Students will be using their laptops to test so students will need to make sure they are charged and at school on their testing days. Attached is the 5th grade informational letter that was sent home. 3rd, 4th, and 6th grade students will be testing soon. *Monday, April 12th is our next Be Kind day at RES. Students are encouraged to wear shirts with inspirational messages or the Be Kind colors of pink/blue. Students are also encouraged to do random acts of kindness today. If caught, a student will receive a Caught Being Kind ticket and can turn it in for a small treat. From April 12th-May 7th we are going to have a grade level Caught Being Kind Challenge. The grade that has the most pink tickets turned in will earn a treat on May 10th. *RES also has our University of Michigan autographed football raffle going on. The money raised will go towards all of our rewards that we hand out to the students, such as Owl Buck prizes, our end of the year reward day, etc. Stop by the office to purchase tickets. We hope everyone is enjoying the warmer weather! Stay safe! Stay healthy! Have a fabulous Friday of learning Owls!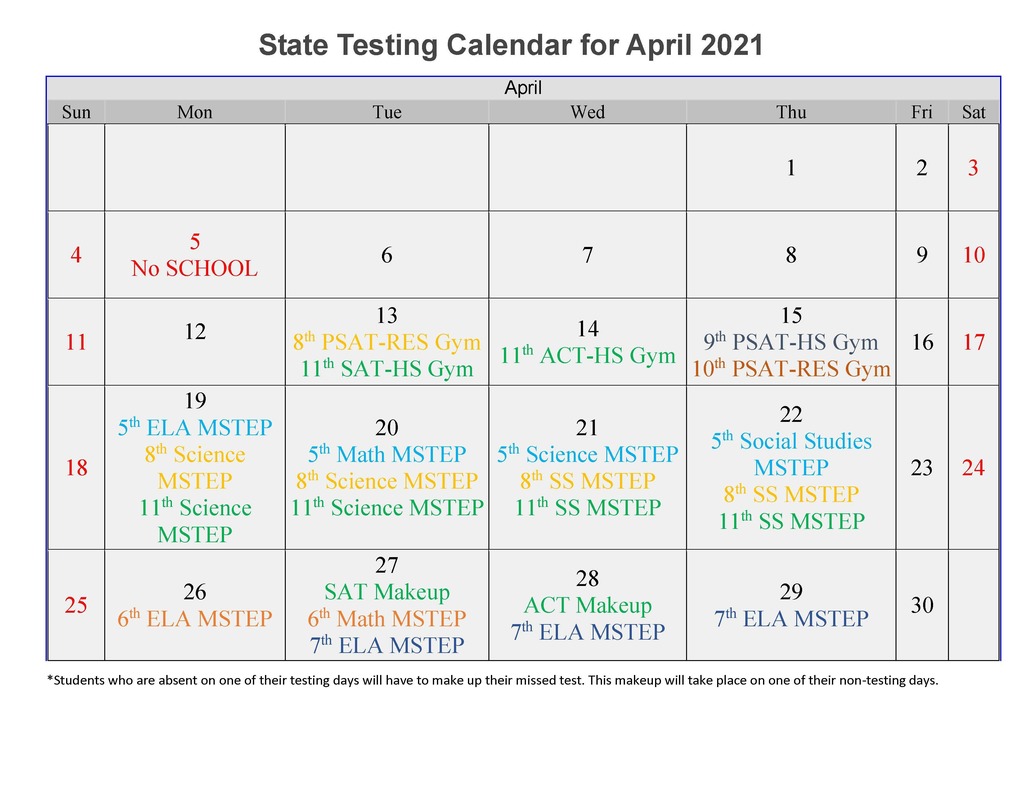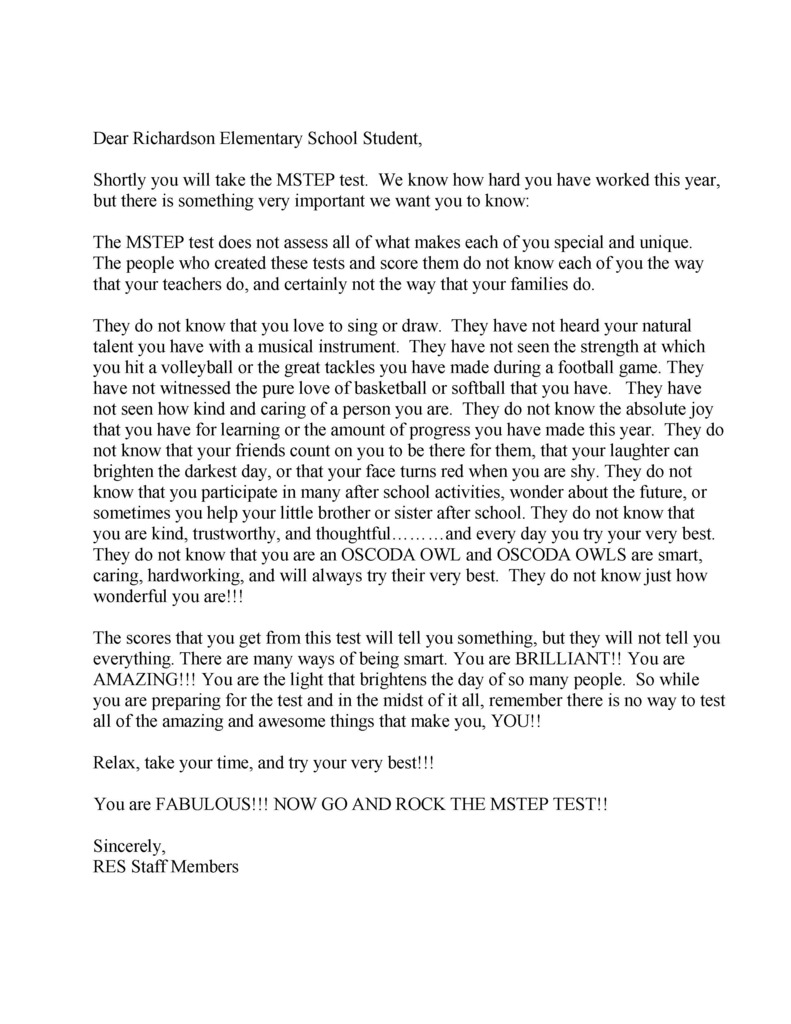 Thank you to Sarah Negro and Salon 121 for her donation to Chester and our therapy dog program. Without the community support we would not be able to have this opportunity for our students. The students absolutely love Chester and we are very appreciative of all of our donations!
https://www.facebook.com/Salon121/